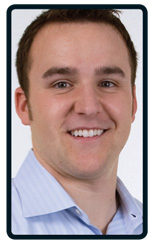 brass|MEDIA began with brass|Magazine in 2004. Launched out of a garage, brass|MEDIA reported $2.7 million in revenue in 2007.
Bryan Sims has had the proverbial entrepreneurial itch ever since he can remember. As a child in Oregon, he ran lemonade stands, walked neighbors' dogs and mowed lawns. During high school, his business aspirations led him to create an investment club for teenagers. Before he graduated, the club had nearly 50 high school students investing roughly $25,000 in the stock market.
Before beginning his freshman year at college, Sims cooked up an idea to launch a magazine to help young adults better understand money. His idea stirred up interest as he pitched it at national business plan competitions. By 2004, at age 19, he'd secured a small handful of angel investors, left college and launched brass|MAGAZINE (his start-up funds were in the "low six-figure range").
"I probably pitched close to 200 people and ended up with eight investors," says Sims. "We ran it out of the garage and got paid up front."
From brass|MAGAZINE, Sims built brass|Media, a company that today employs 25 people and produces a suite of products and services that connect students and schools with experts from the financial industry. The magazine is currently published quarterly and has a circulation of about 500,000. "We have nearly 2,000 high school teachers across the country utilizing our products in the classroom," Sims adds. "We work with over 100 financial institutions in 38 states."
The company generated "hundreds of thousands of dollars" in the first year and was profitable by year two. Revenues have grown 10-fold since then. (In 2008, brass|MEDIA was named to #25 on the Inc. 500 list of the country's fastest-growing private companies, and #4 among media companies. In 2007, the company reported $2.7 million in revenue—a 1,020.1 percent increase over $245,194 in 2004.)
Sims says the market is ripe for other young entrepreneurs. "It's a time when people are probably more willing to listen to a young up-and-comer," he says. "Entrepreneurs are able to single-handedly create their own companies, Web sites and brands without many resources."
VITAL STATS: brass|MEDIA reported a 1,020.1 percent increase in revenue from its launch in 2004 to 2007, earning $2.7 million dollars.