Browser, Not Apps, Still Biggest News Channel on Tablets

Pew survey says 40 percent of tablet users get news through a browser.
While consuming news has become one of the more popular activities for tablet users, access to it is still largely conducted through a browser, not specialized apps, says a new study released by the Pew Research Center and The Economist Group.
The study, called "The Tablet Revolution and What it Means for the Future of News", aims to benchmark tablet usage, particularly in relation to how news content is accessed and consumed.
According to the study, tablet owners are avid news consumers. Fifty-three percent of respondents say they consume news daily on the device—more than social networking (39 percent), gaming (30 percent) and reading books (17 percent). Only sending and receiving e-mail, at 54 percent, edged higher.
However, it appears that while two-thirds of tablet owners have a news app on their device, most are still accessing news content through a Web browser.
As the study points out, publishers banked on apps as the key mechanism for content delivery and sales.
"When it was launched, many observers believed that the tablet might help change the experience of news consumers and the economic ground rules of digital news consumption," says the report. "That belief was based on the sense that people would consume information on tablets largely through special applications or apps that provide content from a favorite news organization like the New York Times or one's local newspaper."
Forty percent of respondents that read news on their tablets get it via a Web browser. From there, 31 percent use both the browser and a news app, while 21 percent use primarily apps to get their news.
Consequently, the economics around news content are constrained. The study finds that 14 percent of respondents have paid to access news on the device. Twenty-three percent get their digital access through a print subscription bundle. And 21 percent would be willing to pay $5 per month if that was the only way to get news from their favorite source on the tablet.
SIDEBAR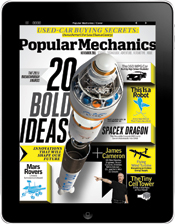 Prepping for the Plunge into Multiple Devices
Hearst shares lessons from being on all current devices. by Matt Kinsman
Last month Hearst claimed more than 300,000 paid circ on tablets and e-readers across all its magazine brands (and those it acquired earlier this year from Hachette). Hearst also claims to have its titles for sale on every device currently in the market.
Creating digital editions for different devices requires dedicated infrastructure. Hearst announced it would convert all of its magazine websites to HTML5 through the fourth quarter and into 2012, starting with GoodHousekeeping.com. The newly revamped site is now compatible with the majority of all commonly used devices.
"We sell all of our titles through the Zinio and Nook stores and soon on the Kindle Fire as well," says Chris Wilkes, vice president, digital editions and audience development with Hearst Magazines Digital Media. "We sell nearly half our titles in the Apple Newsstand today and will have our complete roster there by February 2012 at the latest and I will welcome Amazon's sales in November."
Developing content for multiple devices "takes place as far upstream as possible," according to Jerry Beilinson, deputy editor of Hearst's Popular Mechanics. "One of the things we try to do is not look at our content in terms of reusing or reworking but using it in multiple ways." With illustrations, Popular Mechanics often has assignments that encompass print and tablet formats.
The iPad app, which Hearst codes in-house, is Popular Mechanics' most high value app, says Beilinson. "That's a monthly edition of the magazine. We also do one for Android that's optimized for a seven-inch screen. That doesn't have all the capabilities of the iPad app but is similarly designed specially for that device."
Meet the Author
---