Brown, Kliger Recall the Magazine Industry's Steroid Era

A report from the Lifetime Achievement Awards luncheon.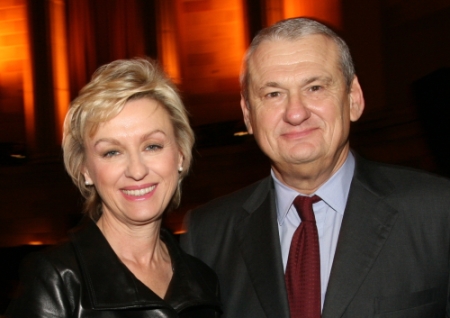 "I think of my career in magazines as three weddings and a funeral," said Tina Brown, summing up her editorial career at Tatler, Vanity Fair, the New Yorker—and the high-profile failure of Talk.
Brown's remarks came during the Magazine Publisher's of America's Lifetime Achievement Awards, the magazine industry's equivalent of a Hall of Fame induction, Wednesday afternoon at a luncheon in New York.
Dressed in black leather, Brown said her tenure at The New Yorker (1992-1996) was a particularly transformative experience. "The goal was not just to infuse new life into a literary jewel with aging demographics, but to preserve all that was splendid about its heritage too," she said. "That was the trickiest part, but changing The New Yorker changed me. It was a daily intellectual workout that was tougher than the gym."
And, despite the heavy-hitting editorial resume, Brown denied ever being "juiced."
"I have never taken steroids," Brown joked. "The writers did, me–never. I belong in this Hall of Fame, OK?" (In a video tribute, the comedian Steve Martin called Brown one of his favorite people "to get high with.")
IAC chairman Barry Diller, who introduced Brown, delivered the line of the luncheon, recalling her unofficial nickname, "Stalin in high heels."
John Griffin, National Geographic Society president and current MPA chairman, introduced the afternoon's other award recipient, Jack Kliger, the president and chief executive officer of Hachette Filipacchi Media. "During these past years as vice-chairman and then chairman of the MPA, Jack has done what few leaders are able to do," Griffin said. "He has led an impressive effort to change the framework of the discussion in your industry, to focus on the core issues and to outline a path for the future."
In front of a familiar crowd of 500 magazine executives, Kliger paid tribute to his late colleague, Condé Nast president Steve Florio, who died in December. But Kliger, known for fire and brimstone speeches during his tenure as MPA chairman, was in a reflective, if celebratory, mood.
"When I was a kid growing up in Brooklyn, I read magazines that talked to me about the things I loved. Of course, I kept some copies of Playboy under my bed for the terrific articles," Kliger said. "But i didn't know anything about the world of publishing that produced these great magazines.  I didn't know about the bright, creative people one could meet and the wonderful places one could see." 
Added Kliger: "Our industry is under pressure to evolve, but that's okay."
PHOTO: Doug Goodman Photography
Meet the Author
---