Brown, Huffington Lampoon Guardian's 'Bitter Rivalry' Report

Huffington: We are sooooo busted.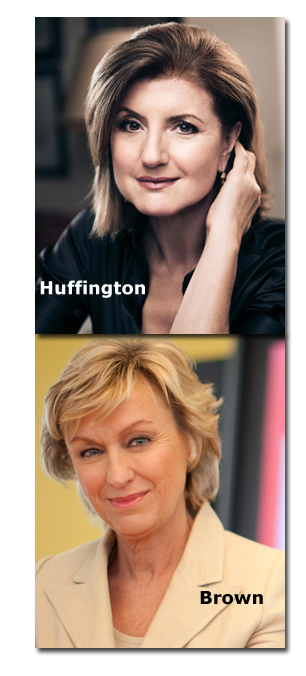 The boxing gloves go on, then they come off. Or, perhaps they were never on in the first place.
Tapping into the growing fervor and fascination surrounding the speculation that Sidney Harman's Newsweek and Barry Diller-backed Daily Beast (run by celeb, power editor Tina Brown) could soon merge, the U.K.'s Guardian newspaper last week ran a piece alleging a monumental rift between Brown and Huffington Post founder/top editor Arianna Huffington.
Citing one anonymous media executive who allegedly is "familiar with both women," the Guardian piece says Huffington and Brown "simply cannot stand each other," and claims that Brown launched the Daily Beast, and is seeking to merge with Newsweek, in "wounded" attempts to catch up to Huffington's success.
Ouch. Talk about uncovering some real back room-type media gossip. Nice work, Guardian.
Maybe, or, uh, maybe not. Whether intending to squash the squabble rumors, or simply trying to poke some fun at the Guardian report, both the Huffington Post and Daily Beast this morning posted what they say is an exchange over IM between Huffington and Brown—obtained, of course, by "an unnamed media executive."
TBrown: The cat's really out of the bag now. How the hell were they able to track down that "unnamed media executive" who is so "familiar" with both of us?

AriHuff: Got to hand it to The Guardian. We are sooooo busted. What's really sad is that this is exactly the type of fearless, extremely well-sourced investigative reporting that sites like ours are putting out of business.
Ha. I guess that's what the Guardian gets for using s single anonymous source to "pull the curtain back" on a supposed bitter rivalry between two media-savvy editors. (The story also inaccurately reported that the Huffington Post hired New York Post media columnist Keith Kelly—the Guardian subsequently removed that bit several days later, without annotation.)
Anyway, click here (or here) for the full IM transcript. Funny stuff.
Meet the Author
---