The Broader Implications of WIRED's Data | Life Conference

The second-annual conference offered a glimpse into the data-driven future.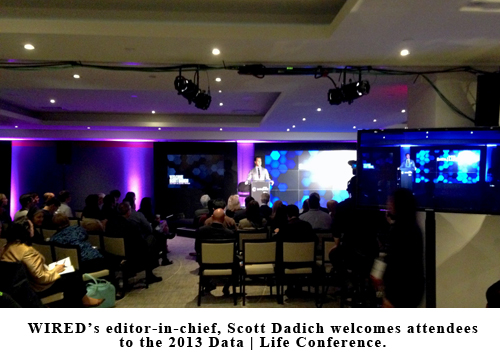 New York—WIRED magazine rounded up some of the most elite healthcare professionals on November 5-6, to discuss how technology–and more specifically, data–will change our future at its Data | Life conference. This is the second installment of the conference and WIRED's second gathering of thought leadership in 2013, following its Think Bigger business conference in May.
Data | Life is another indication that the brand is looking to be more than just a techie-lifestyle magazine. Of course, with so many industries leveraging technology the question from a business perspective is: why healthcare?
The Connection Between Data and Design
Since Scott Dadich took the reigns as editor-in-chief, he has been committed to rethinking the design of WIRED. Throughout the conference he and his team of editors made it clear that design goes beyond the layout of a magazine or website.
"Design is about aesthetics, but at its core it's also about solving the problems people live with everyday," says Cliff Kuang, senior editor of design. And of course the latter can also be said about data.
Dadich weaves it all together when he says, "At WIRED we get to think a lot about the future, and we get to report about the progress enabled by momentum of technology and design. But nowhere is that progress more profound, and that change so exciting, than in the fields of health and healthcare."
The day's first speaker, professor of Medicine and Engineering at the University of Southern California David B. Angus, MD concurs, "We [healthcare professionals] use almost every technology first, because we have to."
In other words, many technologies that people use on a day-to-day basis now–both personally and professionally–were likely designed, developed and tested with healthcare in mind
Thought Leaders Start Conversations that Shape the Future
The event's content was a mix of more than a dozen healthcare and tech speakers. Topics included genetics, fertility apps, sensors and several other data applications that leverage information to improve the quality and length of life. And a packed room of over 100 invitation-only healthcare thought leaders listened in.
"The quantified-self movement has exploded," says WIRED's vice president and publisher, Howard Mittman. "Personal data capture–whether its apps or wearables–is sparking conversations and driving ideas." He also attests that the movement is important no matter what your industry.
Why It Matters
The conference's core theme is an important in that data tells the most accurate and vital stories and has the ability to predict the future. So whether you're looking to learn more about the health of your body or uncover who your who your audience is, data is the best portal for discovery.
The objectives of a healthcare professional may be drastically different from that of a publisher, but the modes for collecting, analyzing and making data actionable are similar. Thus, publishers who talk about leveraging "Big Data" should be keeping one eye on what is happening in the health space, because it could forecast their own future.
At the end of the day, publishers should find comfort in a shared challenge–there is too much data out there and filtering it efficiently and effectively will be an ongoing endeavor for everyone.
Meet the Author
---