Bridging Print and Mobile

New services may solve the mobile riddle for edit, sales and circulation.
Mobile is viewed today in much the same way as online was a few years ago: a huge opportunity that no one really knows what to do with yet. "Most content businesses now have some sort of digital business. I think soon they will all also be building mobile," says Peter Ezersky, managing principal at Quadrangle Group LLC. "Right now, the only ones making money from mobile are the carriers. Until a couple big players figure this out, it won't happen."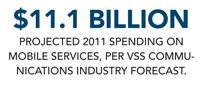 Now some mobile services are emerging to specifically help publishers figure it out, offering new revenue streams as well as renewed relevance for their core print products. Digital magazine vendor Nxtbook and software developer Primiro have teamed up to offer Nxttext, a service that enables mobile users to view print articles and share them with other mobile viewers, while allowing publishers to gather e-mails for subscription prospects and send out advertising. Nxtbook is an investor in Primiro and serves as the exclusive partner for the U.S. magazine market.
How It Works
The publisher assigns a "Nxttext Callout"—a content code within an article. The reader then texts 88411 with the content code and the article is sent to the reader's e-mail as well as an online Primiro library. "If I grab something, it knows who I am and creates a little library for me which is used as the control mechanism for my account," says Primiro CEO Darren Scott. "You can add additional phones and e-mails to an account. It's also a social bookmarking system where people can start discussing the content."
Publishers can send links back to Web sites, digital editions, streaming videos and PDFs. Ads can include similar codes which readers text to receive more product or promotion details.
Every user must register demographic information but they don't have to do it before requesting their first Nxttext message or sharing articles with other non-registered users. Readers can keep requesting content but the service will remind them to go back online for confirmation.
Publishers Prepare Tests
Early adopters like Meredith and Hachette are turning to Nxttext as a long-tail circulation and editorial tool, something which European publishers have had success with (in Norway, 15 percent of consumers in a promo were not subscribers, yet 25 percent of those ended up taking a subscription offer). "We're looking at it as way to gather e-mail addresses by allowing people to get reprints of articles in the magazine," says Dave Ball, vice president of consumer marketing at Meredith. "Based on that, if we can get their e-mail address, we will try to convert them into a subscriber. The thought was, if you're already a subscriber, it's a service to you but if you're a public place reader, it's a way to try to identify some of those folks and reach out to them."
It's also a way for publishers to attract a younger readership. "This is the way younger people interact," says Ball. "As a lot of our magazines skew a little older, this is a way to get the younger demographic to sample our magazines."
Hachette is planning a test of Nxttext in the near future. "From a marketing/circulation point of view, being able to get e-mail from an engaged reader is very important because of the high acquisition costs to get new subscribers," says vice president of circulation and business strategy Phil Ketonis. "In a declining newsstand environment, we need to support the rate base and it's critical to get new subscribers at low acquisition costs."
Hachette is still determining the scope of the test and Ketonis says it will likely focus on offering content like recipes or fitness tips.
Bonnier is intrigued but trying to determine whether the service merits a closer look. "It's a funny decision because it falls between the silos of a normal publishing company—editorial, advertising and consumer marketing are all involved" says consumer marketing director Bob Cohn. "Our next step is convincing ourselves that it's something that will produce enough e-mail addresses or enough contacts that it's worth testing, and finding the money in a tight budget to test it."
Nxttext includes a one time set-up fee that ranges from $999 to $4,900 and a fixed monthly support/maintenance fee of $299-$999, depending on circulation size. Other costs are based on subscriptions sold, e-mail address generation and the tagging of advertiser content.
Meet the Author
---