Susan Lyne Out as MSLO CEO

Co-CEOs named; executive returned Martha's brand to profitability.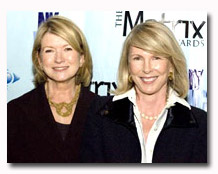 Susan Lyne, the chief executive officer of Martha Stewart Living Omnimedia who steered the brand while its namesake served five months in jail for lying to federal investigators about the sale of ImClone stock, has stepped down, the company announced today.
Wenda Harris Millard, current media president, and Robin Marino, merchandising CEO, were named co-CEOs, reporting to chairman Charles Koppelman.
"Four years ago when the board asked me to take on this role, our principal goal was to rebuild the company and return it to profitability," Lyne said in a statement. "We have done that."
"While there is never a perfect time to depart," she added, "the company is on sound footing and we expect the transition to be very smooth."
Lyne, who was named CEO in 2004 shortly after Stewart began serving her sentence in an Alderson, West Virginia, women's prison, will retain a title of director during the transition period.
MSLO reported a 2 percent increase in revenue during the first quarter, with its advertising-supported broadcasting and businesses driving that growth. The publishing segment, however, was essentially flat.
Overall revenue was $67.8 million, compared to $66.7 million for the first quarter of 2007. Publishing revenues in the first quarter increased slightly, to $40.8 million from $40.6 million in 2007.
The company had a strong finish to 2007, posting double digit publishing and Internet revenue gains during the fourth quarter.
Meet the Author
---