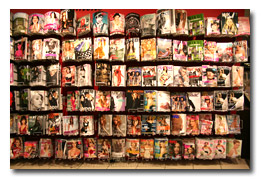 UPDATE: Anderson News Suspends 'Normal Business Activity'
Two weeks after threatening publishers with separate 7-cents-per-copy price hikes, a pair of major magazine wholesalers, Anderson News and Source Interlink, have decided to cease operations, according to a source at Comag.
When contacted by FOLIO:, a Source Interlink spokesperson declined to comment "on rumors." Anderson could not be reached for comment.
Last month, a week after Anderson News announced it would increase its price by 7 cents per copy, Source Interlink said it will be raising its own per-copy distribution rates by 7 cents.
Combined, the pair account for about 50 percent of the magazine market.
Both companies gave publishers the deadline of February 1 to comply with the price hike.
Publishers and distributors balked at the idea. Time Inc. and national distributor Curtis Circulation said its publisher clients will not comply with the Anderson's 7-cent price increase. Comag, however, extended its contracts with both Anderson and Source Interlink—without the price increase.
Now, all four national distributors have stopped shipping their magazines to Anderson and Source, including Comag.
What's Next?
Magazines with on-sale dates of the week of February 2 will still be distributed. Comag is asking clients to not ship magazines with on-sale dates after that week until further notice.
According to distribution sources, Hudson News and News Group—two other major magazine wholesalers—have been working behind the scenes to pick up the business left on the table by Anderson and Source. Most of the major retailers, the sources said, are negotiating contracts.
According to these sources, Hudson News will expand into Southern California and its East Coast operations into the mid-Atlantic. Newsgroup will expand into the southeast and Chicago.
Two hours ago, retailers signed over business from Anderson to Newsgroup, including Wal-Mart, according one source.
'It's Going to Be a Mess'
But most are not expecting a smooth transition. "It's going to be a mess for a couple of weeks," said one major consumer publisher.
"Fifty percent of the distribution market has just evaporated," said John Loughlin, executive vice president and general manager at Hearst magazines.
"The thing I worry about is the law of unintended consequences," he added. "You can debate who precipitated this, but I'm a believer in free-market competition."
Loughlin said it is going to be "very difficult to smoothly transition that tonnage of magazines to the market using alternative methods."
He added: "I guess I'm glad I'm not publishing weeklies."
According to another source: "This is going to hit some regional magazines 100 percent. It will put
many out of business, to the extent they rely on newsstand."
"Weeklies would be hit the hardest while others will have more time to come up with another plan," John Harrington, publisher of the New Single Copy newsletter, told FOLIO:. "There will be lost sales for some issues."
There were some publishers who felt Anderson and Source would back down from their initial demands. It appears now they were not bluffing.
"The business has not been profitable and has not been for a very long time," CEO Charlie Anderson said in a January conference call. "What we are trying to do is give some stability to the channel. Short of that, there will be an implosion in the business."
Check FOLIOmag.com throughout the day for updates to this story.
[EDITOR'S NOTE: This story has been corrected from an earlier version. In it, the above quote about regional magazines was incorrectly attributed to John Loughlin.]