Sharon Rowlands Resigns as CEO of Penton Media

Last day is Nov. 1; Rowlands remains on Penton's board of directors.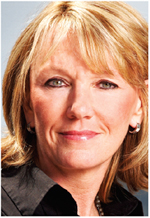 Sharon Rowlands is resigning as Penton Media CEO, effective Nov. 1. In a memo sent to Penton employees this morning, Rowlands says she is leaving to become "CEO of a large global company–more than three times the size of Penton–in the security and risk information marketplace." (The company is Falls Church, Virginia-based Altegrity.)
UPDATE: Following Rowland's departure, executives from Penton's two private equity-owners–Tyler Zachem, managing director of MidOcean Partners and Anup Bagaria, vice chairman and managing director of Wasserstein & Co.–will become interim co-CEOs while a search for a replacement is conducted.  
Rowlands, the former president and CEO of Thomson Financial, became CEO of Penton in October 2008. Under her tenure, Rowlands [pictured] saw Penton through a pre-packaged bankruptcy filing and an aggressive shift toward marketing services that included the acquisition of digital marketing services agency EyeTraffic Media and the formation of a dedicated Marketing Services Group. She will remain on Penton's board of directors.
NOTE: Check foliomag.com throughout the day for more on this breaking story.
In a memo obtained by FOLIO:, Rowlands writes,
Dear Colleagues:

After serving as CEO of Penton for three years, I want to let you know that I am resigning my management role but will remain on Penton's Board of Directors.

This was an extremely difficult decision for me — not only have I appreciated the opportunity to lead Penton, but it is also an exciting time in the Company's evolution. Without a doubt, Penton is a great company with a bright future, and I am proud of what we have accomplished together.

So why am I stepping down as CEO? I was approached with an opportunity to become CEO of a large global company – more than three times the size of Penton – in the security and risk information marketplace, and I think it will provide me with an enormous challenge.

Let me be clear, my decision is absolutely no reflection on Penton. The company is in great shape and well on its way to becoming a leading global media provider. We weathered a difficult period two years ago; we showed strength and invested in our digital and marketing services capability and are now starting to get traction in both of these areas. All of our businesses have a strong foundation, the right strategies in place, and are poised for growth.

The thing that gives me the most confidence about Penton's future is its people. The company has a talented work force and the executive team is very strong. I know the team will continue to provide sound leadership while keeping the company on track and maintaining its momentum. Going forward, it is essential that everyone stays focused on their year-end goals.

I know I am leaving Penton in excellent hands and look forward to continuing to serve the Company as a member of the Board of Directors. I have the utmost respect for all of you and am optimistic about the Company's future. Our private equity owners – Wasserstein & Co. and MidOcean Partners– are as excited and committed to Penton as ever, and are in the process of conducting a search for Penton's next CEO. I will also be available to ensure a smooth transition, and will continue to serve as CEO until November 1.

As a Board member, you can be sure that I will remain involved in the direction of the Company and that you have my full support and encouragement.

I look forward to this next chapter in Penton's evolution.
Meet the Author
---