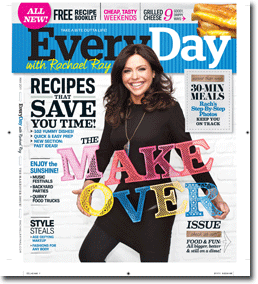 Meredith Corp. announced that it has agreed in principle to buy the print and digital assets of Every Day with Rachael Ray from Reader's Digest Association.
The transaction is expected to close this fall and adds to the expansion of Meredith's Food category, which included the launch of Recipe.com and the acquisition of EatingWell Media Group earlier this year. 
However, Dan Lagani, president, North America for RDA, tells FOLIO:, "We've had very good conversations with Meredith. It's a little premature, we're not across the finish line, but I would say conversations have been positive." 
A Meredith spokesperson says, "While no contract has been signed at this point, all parties have agreed to work toward a mutually beneficial outcome that will result in Meredith acquiring the assets from RDA and executing a licensing deal with Rachel Ray for operation of Every Day with Rachael Ray magazine and its related content and digital assets."   
Reader's Digest Association announced on Wednesday that it put Every Day With Rachael Ray up for sale as part of a series of steps to focus resources on its "master brands", including Reader's Digest, Taste of Home and The Family Handyman.
Once a top performer on the print side for RDA, Every Day With Rachael Ray is down 21 percent in ad pages for the first nine months of 2011, according to Publishers Information Bureau. Meanwhile, Reader's Digest was up 10.7 percent in ad pages, Taste of Home was up 2.7 percent and The Family Handyman was up 11.1 percent for the same period, per PIB.
"Because our agreement limited our participation to producing just a magazine, we were unable to expand the brand and its content across multiple platforms," said RDA president and chief executive officer Robert E. Guth. "Going forward, it was not a fit with our master brand strategy."
Meanwhile, Every Day With Rachael Ray editor-in-chief Liz Vaccariello has been appointed to the new position of chief content officer and editor-in-chief for the Reader's Digest Community, a position that will "ensure there is a unified creative voice for the Reader's Digest brand across all platforms, and will drive editorial direction and strategy across Reader's Digest branded magazines, books and digital products in the U.S."
Peggy Northrop will step down from her position as global editor-in-chief of Reader's Digest. She'll take on an advisory role as international editor-at-large. Last year, Northrop led Reader's Digest in a "return to its roots" as a curator of content for its family-centric consumers.
"Here is a strategic initiative to focus on RD's own intellectual properties, where we have the freedom to create content experences across all platforms and then to build the businesses in all the ways that you can from a financial perspective," says Lagani. "This includes advertising and sponsorship, but it doesn't really afford the opportunity when you don't own the entirety of the brand. We want to really maximize the relationship with the consumer through partnerships and licensing. We still think very highly of [Every Day With Rachael Ray's] potential, but the nature of that relationship was a magazine partnership. Strategically, the company's focus will be on its master brands across all platforms." 
Prepping for Sale?
The move could signify Reader's Digest prepping for a sale–in July, The Wall Street Journal reported that the company went on the block with an asking price of $1 billion.
Last month, Guth, former CEO of telecommunications company TelCove, was name president and CEO of RDA, becoming the third person this year to hold those titles, following the departure of longtime CEO Mary Berner in April and former CFO Tom Williams, who replaced Berner.
"I'm not going to comment on speculation that's been out in the press," says Lagani. "Today's announcements were the kind of announcements that you make when you have a clarity as to what the business can be and should be."