Reader's Digest to File for Chapter 11 Bankruptcy Protection

Lenders agree to reduce debt from $2.2 billion to $550 million.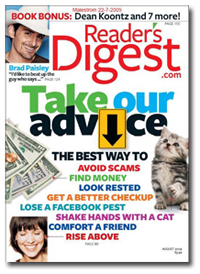 UPDATE: Behind the RDA Chap. 11 Filing

The Reader's Digest Association today said it has reached an agreement in principle with a majority of its senior secured lenders on terms of a restructuring plan to reduce the company's debt from $2.2 billion to $550 million.
As part of the agreement, RDA expects to implement the restructuring under a voluntary pre-packaged Chapter 11 filing in U.S. bankruptcy court.
Under the restructuring agreement, RDA's senior lenders will exchange a "substantial portion" of the company's $1.6 billion in senior secured debt for equity and provides a transfer of ownership of the company to the lender group, the publisher said.
According to the agreement, RDA's lender group will provide the company with $150 million in debtor-in-possession financing which, it said, will be convertible into exit financing upon emergence from Chapter 11.
"This agreement in principle with our lenders follows months of intensive strategic review of our balance sheet issues to financially strengthen the company," RDA CEO Mary Berner said in a statement. "Restructuring our debt will enable us to have the financial flexibility to move ahead with our growth and transformational initiatives."
All of the members of the RDA's board of directors, except for Berner, have resigned.
The reorganization and bankruptcy protection will effect only RDA's U.S. businesses, a spokesperson told FOLIO:. "These actions will better position us for future success," the spokesperson said. "We will continue to operate normally through the process."
RDA also has decided not to make a $27 million interest payment due today on its 9 percent senior subordinated notes, which are due in 2017. Instead, the company said, it will use a 30-day grace period to continue discussions with its lender group and other stakeholders.
Among RDA's senior lenders are Bank of America, JP Morgan and GE Capital.
Check back to FOLIOmag.com for updates to this story.
Meet the Author
---