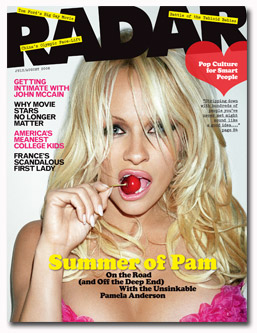 Despite backing from various deep-pocketed investors, Radar—the "pop, politics, scandal, style" magazine that failed twice since its launch in 2003—has folded again, a spokesperson for Radar confirmed.
Its Web site, which has been actively published longer than the magazine, has been acquired by American Media Inc. Terms of the deal were not disclosed. AMI is partnering with Integrity Multimedia Co., led by Yusef Jackson, who was the backer of Radar's current iteration, to form a new company called Radar Online LLC.
David Pecker, AMI's CEO, did not immediately return a request seeking comment. David Perel, EVP of AMI news, has been named managing editor of Radar Online.
It is unclear how many of Radar's staffers would remain with the site. AMI plans to relaunch the Web site in 2009 as a competitor to celebrity gossip juggernaut TMZ.com.
Maer Roshan, the magazine's founder and editor-in-chief, told staffers the news on Friday in a meeting the New York Observer reported as "solemn." According to the spokesperson, Radar's Halloween party, slated for October 30 in Manhattan, will go on as scheduled. Roshan did not return a request seeking comment.
Third Time Not a Charm
Using Spy magazine as a blueprint, Roshan—a veteran of Talk, Interview and New York magazine—launched Radar to great fanfare in 2003. It folded after just two issues.
It returned in May 2005 with the backing of Mort Zuckerman, who poured a reported $25 million into the magazine. It shuttered in November of that year after three issues, citing a lack of advertising.
Backed by Jackson (and, according to numerous reports, supermarket magnate and Source Interlink owner Ron Burkle) Radar was revived in 2006. At the time, Jackson said that he was prepared to give the magazine enough money to publish until 2011.
The magazine had received a National Magazine Award nomination for general excellence this year.
"There's still a real need for magazines," Roshan once told the New York Times. "They allow you to take a longer view, to work on a story for three months. That's not a luxury you are afforded in most Internet journalism."