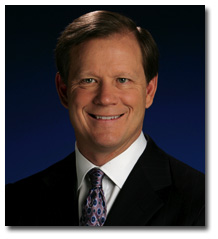 Playboy Enterprises today appointed Scott Flanders—president and CEO of Irvine, California-based media company Freedom Communications—chief executive and to its board of directors. The company also appointed Olympus Media senior vice president and CFO David I. Chemerow as non-executive chairman of the board.
Flanders [pictured] replaces interim CEO Jerome Kern, who took over late last year when Christie Hefner—longtime CEO and daughter of Playboy founder Hugh Hefner—stepped down.
Citing unidentified sources, the Wall Street Journal reported Monday morning that Playboy was eying Flanders for the chief executive role.
"This is a particularly exciting time to assume the role of CEO," Flanders said in a statement. "The evolution of the media industry and the global recession's effect on consumer spending intensify the need for a creative and effective business model."
Playboy last month reported a $13.7 million net loss during the first quarter of 2009. Revenues for the period were $61.8 million, down more than 20 percent from $78.5 million during the same period last year.
During the earnings call, Kern said the company is considering "radical changes" to its print business model, including price increases, a frequency reduction and lowering its rate base of 2.6 million. The company said it would combine Playboy's July and August issues into a double issue.
Through the first quarter, Playboy saw ad pages fall 22 percent, according to Publishers Information Bureau figures. The company said it expects to report a 39 percent decline print ad revenues during the second quarter compared to last year.
Until last week, it was rumored that Playboy—which in February said it is open to sale talks—was being courted by Virgin Atlantic CEO Richard Branson.
As of 4 p.m., Playboy's stock was trading at $2.97, down nearly 11 percent from its previous close.
Check back to FOLIOmag.com for updates to this story.