Breaking New Accounts

New advertisers are often the only way to drive growth.
Expanding an existing Client's buy is always more cost efficient than landing a new account. However, as clients scale back print (and increasingly, all aspects of their budgets), landing new accounts has become more vital than ever. In 2008, 58.3 percent of publishing executives expected increased revenue to come from new print advertisers compared to 35.8 percent who expected it from existing advertisers, according to FOLIO:'s CEO Surveys.
And as publishers sell more integrated packages, it can be difficult to assign a value to the expense of selling. Factors include whether the pre-selling was done over the phone, at a tradeshow, e-mail or face-to-face; whether the product being sold is multi-media or  print and how many contacts are involved in the buy.
"It's a pretty complicated question," says Laurel Didier, vice president and publisher at Vance Publishing Corp. "In the past, you could assign a formula of approximately three calls at $250 per call to bring in a new client. That does not apply any more. Each account is different."
Never Walk in With a Specific Proposal
In b-to-b advertising, all leads are pre-qualified and there is not a lot of cold calling, according to Didier. "It's so much easier to get information on the customer today, even just through their Web sites. It amazes me how many people try to sell to me without knowing what my title is."
Vance is seeing clients respond to packages beyond advertising. "We're selling services where we analyze demographic data in our database and come back with recommendations for how they should set up sales territories based on how many companies are in that area," says Didier. "This is information no one even asked for a few years ago. Now everyone is so downsized and pressed for time they don't have enough people to work on a project. They don't look at us as a magazine, they look at us as an information source into their customers and audiences that they serve. If you're just selling an ad in a magazine, you're going to become irrelevant."
Sellers need to understand the client's business. For three years, Didier says Vance was shut out by a large marketer that ran print schedules with the competition. Through constant contact, Didier saw the marketer's products evolving toward a different audience. "They had gone from a small shop-type audience to a more sophisticated, high tech customer," she says. "They said 'we're not getting good leads since we've gone in this direction.' Now we're supplying 10 percent to 20 percent more qualified leads than the competitor who had all the business just by staying on top of  the client's strategy."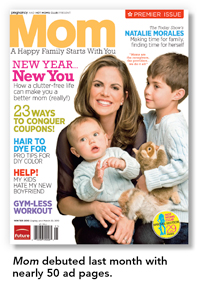 Selling a New Magazine To New Clients
Last month a new quarterly called Mom—from the publishers of Pregnancy—debuted on newsstands and in doctor's offices with nearly 50 ad pages. While much of the business came from existing Pregnancy accounts, Mom has landed new accounts with a consultative approach that can include custom content, online product reviews and video, traditional banner units and live events. 
With a non-endemic advertiser that manufacturers Web cams, Mom offered a campaign that featured print, online and events including mom mixers around the country and a social media tour through a partnership with Maria Bailey, founder of BlueSuit.com and a well known content provider for moms. "Everyone wants to figure out how to master getting the attention of moms in social media circles," says Debbie Klett, national director of sales and business development.
Pricing varies based on the client and the extent of the campaign.and is offered at gold, platinum and silver levels. "This is not a traditional CPM model," says Klett.
Meet the Author
---