MPA Cancels AMC

Annual conference nixed; latest blow to association.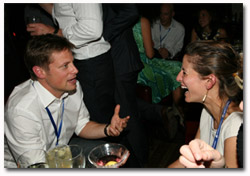 Runner's World editor David Willey, ASME's president, and Glamour editor Cindi Leive, then-ASME president, at AMC 2007
The American Magazine Conference—the Magazine Publishers of America's annual, glitzy pow-wow of high-powered magazine editors, executives and occasional celebrities, usually held at a plush resort location—has been cancelled.
An official announcement from the MPA is expected Monday. The cancellation was first reported by Mediaweek.
The MPA said its decision to pull the plug on the 2009 event, which had been scheduled to take place in October in Boca Raton, Florida, was due to recent feedback it had received from its members.
"The cancellation of this year's AMC is in response to the difficult economic climate facing all businesses, including the magazine industry," MPA president Nina Link said in a statement.  "We recognize that this year our members are looking at a variety of ways to achieve savings, which would include curtailing certain discretionary travel and hotel expenses.  We hope to resume the AMC next year in the city of Chicago."
The MPA said its other 2009 events—including the National Magazine Awards in May—will go on as planned.
The nixing of AMC is the latest recession-related blow to the association. At least three high-profile members—Hachette, American Media Inc. and New York magazine—have withdrawn their membership in recent weeks, each citing the economy.
And like its members, the MPA has been forced to make budget cuts and layoffs, too, reducing its operating budgets and staff size by 18 and 20 percent, respectively, late last year.
Last fall, AMC took place in San Francisco—a decidedly less glitzy location—and managed to draw about 400 attendees.
The MPA is also expected to announce Monday the creation of a one-day, business-oriented event "focused on innovation," which will take place in New York this fall.  The new event is not a replacement for AMC, the MPA said.
Meet the Author
---