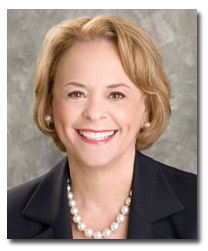 RELATED MEMO: Click here for Moore's memo to staffers
The volatile economy—and the threat of more volatility to come in 2009—has forced yet another publisher to retrench.
After weeks of speculation about layoffs and restructuring at Time Inc., the mega-publisher announced late Tuesday a dramatic restructuring that is said to include significant layoffs.
In a memo to staffers Tuesday evening, Time Inc. CEO Ann Moore wrote that Time Inc. will reorganize into three business units: news, style and entertainment, and lifestyle. The company's magazines will be grouped by market, and personnel resources will be pooled.
"The goal is to enable our company to move faster, go to market smarter, save significant costs, and employ our editorial resources more efficiently," Moore wrote.
When contacted by FOLIO:, a Time Inc. spokesperson declined to discuss layoffs or restructuring, other than to say that "staffing of the groups will be announced within a few weeks." But that number could be as high as 600, according to a report in the New York Times, or about 6 percent of the company's overall workforce.
   
Last week, there were approximately 30 layoffs at Time Inc.'s Southern Progress group. Time Inc. had already cut roughly 100 jobs from its magazine publishing division this year.
Market-Focused Groups
Each unit will be headed by one senior corporate executive, Moore said. They will include four executives to manage ad sales, digital business, financial and editorial efforts. Each will also have its own general manager responsible for budgeting. General managers will report to Time Inc. executive vice president and CFO Howard Averill, the memo said.
The news group will include the Time, Fortune/Money, Sports Illustrated, Life.com and GEE businesses. It will be managed by executive vice president John Squires.
Real Simple, This Old House, All You, Southern Living, Cooking Light, Sunset, Health, Cottage Living, Coastal Living, Southern Accents, MyRecipes.com and MyHomeIdeas.com will make up the lifestyle group, which will be managed by executive vice president Sylvia Auton.
Moore will manage the style and entertainment group, which will include People, InStyle, Entertainment Weekly and Essence.
As part of the reorganization, Time Inc. will create an advertising sales and marketing group which will be charged with "setting and executing corporate ad sales strategy along with the ad sales head for each business unit," Moore wrote. The group will be headed by executive vice president Stephanie George.

Pooling Trend
Time Inc. joins what is an increasing number of publishers restructuring their operations in order to pool resources and cut costs.
In August, b-to-b publisher Source Media said it would concentrate its more than 60 magazines into four business groups, and recasted editorial staffs for each of its individual brands, "pooling" editorial by market.
Earlier this month, Nielsen Business Media announced an editorial reorganization at its Adweek Media Group that will combine content development and distribution for Adweek, Brandweek and Mediaweek magazines under one editorial umbrella.
F+W Media also announced a reorganization that groups its products according to "communities," not by channel.
NOTE: Check FOLIOmag.com throughout the evening for updates to this story.