House & Garden to Fold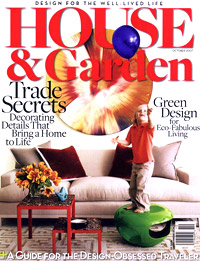 The 106-year-old House & Garden magazine will cease publication after its December issue and lay off its staff, Condé Nast president Charles H. Townsend announced this morning. And, in a move that is a departure from the industry's recent print-shuttering playbook, the magazine's Web site will also be shut down.
"House & Garden has a long and venerable history within Condé Nast," Townsend said in a statement. "This has been a difficult decision to come to but we feel it is one that must be made at this time. I would like to thank Dominique Browning and the entire staff for their award-winning efforts throughout the years. House and Garden's intelligent and graceful editorial attracted a loyal readership. We were proud to publish it." The staff numbered less than 100, according to a Condé Nast spokesperson.
Joe Lagani, the magazine's publisher, left House & Garden last month for a high-level position at GlamLiving, part of the burgeoning online portal startup Glam Media. According to a source close to the company, several candidates to replace Lagani were considered. "There had been some conversations," the source says.
"With the unexpected departure of the publisher of the magazine, we decided to take a serious look and re-evaluate the title," Townsend continued. "Our investment in House & Garden throughout the years has been substantial and we no longer believe it is a viable business investment for the company." Lagani was named Condé Nast's "Turnaround Publisher of the Year" in 2006.
A sale of the magazine was not considered, the source says.
Through September, House & Garden's advertising revenue is up 9.5 percent to $68.2 million, according to the Publishers Information Bureau. Ad pages, however, are down 1.4 percent. The magazine's average paid monthly circulation during the first half of the year was 976,443, an increase of nearly seven percent over 2006, according to the Audit Bureau of Circulations. Single copy sales, however, have decreased every year since 2003, according to ABC figures. Through June, single copy sales (48,732) were down 4.3 percent for the period and 42 percent since 2002.
The company now says it will focus on its other home and lifestyle titles, including Architectural Digest, Domino-a magazine that was seen, at least internally, as a threat to House & Garden since its 2004 launch-and Vogue Living, which will increase its frequency in 2008.
Meet the Author
---