Beyond E-Reader, Tablet Adoption

Publishers need to consider content production, prices, audience metrics, more.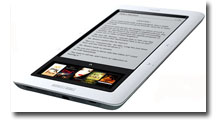 The growing swell of e-reader and tablet devices has reached deluge proportions—even if the population at large doesn't know it yet. The platform is still young and manufacturers and publishers alike are testing the waters even as the technology rapidly develops beyond what has already been released. In the meantime, publishers are working with whatever they can get their hands on, as long as content production complexities don't get out of control.
The driving factor for early-adopter publishers is if these devices catch on with consumers then they want to be there when it happens. "We're fundamentally trying to make sure we're on all the devices that people use to consume this content," said Scott Havens, vice president of digital strategy and operations at The Atlantic. "We don't want to guess who's going to win or lose, we want to make sure you can read The Atlantic everywhere."
According to Havens, The Atlantic has about 10,000 readers of the magazine on the Kindle and recently started selling short fiction on the device as well. The magazine will also begin testing a paid model for blog content. Havens has done deals with Plastic Logic (developer of the Que reader), Barnes & Noble's Nook [pictured] and the Sony Reader.
For financially battered content publishers, e-readers and tablets are a source of much hope. But it's difficult to balance potential—revenue and customer adoption—with reality and the lack of research and metrics. The e-reader and tablet platforms are still being driven by the industry, not the end user.
While some manufacturers are touting new advertising models for their devices and platforms, publishers' first priority is simply to present the content in a format that looks and performs well. Audience comes first, then advertising. "Admittedly, the first priority right now is the end user piece and the subscription model around the end users," said Bob Carrigan, CEO of IDG. "It's getting the critical mass of audience to use and enjoy the experience and then we can get them engaged with advertising."
While the fundamental strategy is to cover the bases and test drive each device as it becomes available, publishers want to keep production time and costs to an absolute minimum—especially since there are no solid behavior and purchase metrics to justify a larger cost center. And as the number of devices and formats multiply so do production requirements.
First Questions
While there's no doubt that Amazon's Kindle has sparked a revolution in reading technology, the device's business model and display limitations have exposed major shortcomings for magazine and newspaper publishers over the short two years since its launch. These deficiencies are where publishers like The Atlantic and IDG are focusing their negotiations with other manufacturers.
"Having played around with the Que and having seen the other devices and mockups around the Apple device, the Kindle is now the least interesting," said Havens. "Amazon has tremendous reach, but there are severe limitations from a publisher's perspective. The first barrier is we get a very small percentage of the revenue. We also can't put our ads in there and we don't own the customer relationship."
Stephan Scherzer, executive vice president and general manager for IDG's PCWorld and Macworld group, is expecting to draw the line at price points. IDG was one of the launch publishers on Que's two tablets. Scherzer said they're in discussions with Barnes & Noble and Skiff as well.
"I would not go on an e-reader and sell an issue for $2. No discount," said Scherzer. "We need to be close to the same cover price. The same goes for subscriptions. That's the way we try to structure all those deals."
Skiff, for its part, said it will work with publishers on price levels. "We view publishers as partners, not commoditized content providers," said Gil Fuchsberg, Skiff's president, who added that overall revenue splits fall in favor of the publisher. "We think publishers deserve the majority of the revenue and our splits are consistent with that. They may vary from publisher to publisher based on different levels of commitment, but on average certainly more than half is going to the publishers."
For publishers, key negotiation points center around four areas:
■ Audience metrics: Publishers want access, control over customer base.
■ Price points: It's debatable, but some publishers say content pricing should mirror what readers pay for print.
■ Revenue share: Amazon infamously weighed the split heavily in their favor. The growing number of devices and platforms has made this formula more negotiable.
■ Contract length: Vendors aren't interested in short-term contracts. Expect a year or years, said Havens. Yet IDG's Scherzer cautions against going too far. The technology is developing quickly and you don't want to get locked into a contract that's at the losing end of a device shakeout.
How the Content Gets Produced
Infrastructure is the next pain point for publishers. Right now, the process of feeding content to e-readers and tablets involves setting up a feed to the provider. Havens set up an RSS XML feed for Amazon that's built according to the retailer's specifications and files get pulled directly out of The Atlantic's CMS.
Other manufactures use a middleman to reformat PDFs into a proprietary format. Sony and Barnes & Noble, for example, use an outfit called LibreDigital for file conversion. There is no fee to the publisher, said Havens. The device manufactures pick up the tab.
While this might sound straightforward, there is no common file format among the devices, which makes publishers nervous—even as they're eager to sign up with whatever device comes their way. For now, this is solved by shipping hi-res PDFs. "Most of the partners we deal with use a third-party that does the more challenging production work," said Scherzer, who relies on his print production team to traffic the files. "I send them a hi-res version and they turn it into whatever format they need. As long as we just need to send out PDFs I'll adopt as many platforms as possible. This could scale, but it will only make sense if we don't have to do a lot of customization."
Meet the Author
---