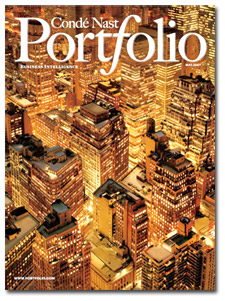 Condé Nast has shuttered Portfolio, its struggling business magazine. The May issue will be its last.
Staffers were informed during a meeting this morning. Portfolio.com also will be shut down.
Among the affected staffers are editor-in-chief Joanne Lipman and publisher William Li. A spokesperson for Condé Nast did not immediately return a request for comment.
The magazine had watched ad pages plummet 60.9 percent during the first quarter, according to Publishers Information Bureau figures.
Billed as a business publication with big, bold articles and dynamic visuals, Condé Nast launched Portfolio in April 2007. The second issue didn't hit newsstands for another four months, on August 15.
RELATED VIDEO: Q+A with publisher David Carey
Portfolio carried a total and verified circulation of 449,005, according to the most recent FAS-FAX report.
The magazine was plagued by some staffing issues over its short run, beginning with Lipman's firing of deputy editor Jim Impoco in August 2007.
The company reportedly spent over $100 million to launch Portfolio. It was said to be the most expensive in Condé Nast history.
Refresh this page for updates to this story.