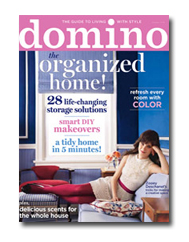 RELATED: 'Diverse' Shelter Magazines Will Survive
Condé Nast announced today that it will shutter Domino, its four-year-old shelter title.
The March issue, the publisher says, will be its last. The Web site, dominomag.com, is being shut down, too.
According to CEO Charles Townsend, the decision to cease publication "is driven entirely by the economy. Although readership and advertising response was encouraging in the early years, we have concluded that this economic market will not support our business expectations."
Editor Deborah Needleman and publisher Beth Brenner will be leaving Condé Nast, the company said.
Launched in April 2005, Domino carried a ratebase of 850,000. During the first half of 2008, Domino's total paid and verified circulation average was 1.12 million, according to ABC.
The magazine saw ad pages fall 4.1 percent in 2008, according to Publishers Information Bureau figures.
The shelter category, in particular, has been hit hard by the recession. Earlier this month, Meredith closed Country Home.
Late last year, Martha Stewart Living Omnimedia shuttered fellow shelter magazine Blueprint.
Refresh this page for updates to this story.