UPDATE: CEO Out at Penton

John French resigns at struggling company; no replacement named.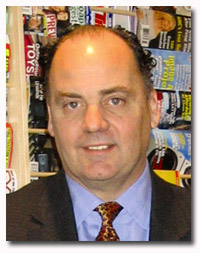 UPDATE: Who Will Replace French at Penton?
Penton Media CEO John French today announced that he is resigning from his post at the struggling publishing company.
French's exit comes a month after Penton laid off 42 employees. Earlier this year, French called for a hiring and salary freeze and revenue reforecasting across all departments at the company.
Below, the memo sent to Penton staffers today:
From: French, John
Sent: Thursday, July 17, 2008 9:31 AM
To: DL – Penton All Employees
Subject: Important News for All Penton Employees
Importance: High
Hello Everyone,
I am writing today to share with you the news that I will be leaving my position as Chief Executive Officer of Penton Media. This decision has been a difficult one and Penton's Board of Directors and I have had numerous discussions regarding the organization's evolution and the leadership needs going forward. We believe that my leaving is truly the next step in a significant transformation which is already well under way across the organization. New leadership from the CEO position will help bring new thoughts and new ideas to Penton.
Going forward, I will continue to serve as a member of Penton's Board of Directors and I will be working with both the Wasserstein and MidOcean organizations on new opportunities in the media industry. I will also be actively involved in conjunction with The Board on the search for my replacement, which will begin immediately. I will remain in my current role until a replacement has been selected and will then transition my leadership responsibilities.
In the interim, it will be business as usual for Penton. As a company we need to accomplish a summer forecast, host operating reviews, develop strategic plans for each of our product groups, which are all part of beginning the budgeting process for 2009. I will be working with Jean Clifton, our newly hired CFO who has already made meaningful contributions to our financial and shared services departments, to kick off each of these processes very soon.
We have accomplished a considerable amount together during my time with the organization. As I've mentioned before, I spent the first part of my career with the former Penton organization and joined what was then Primedia Business Magazines and Media in 2002. Since that time, we have truly transformed the company and have been fortunate to celebrate a number of significant milestones along the way. From successfully spinning the company out from Primedia and establishing a new entity in Prism Business Media in 2005, to bringing two great organizations together in 2007; I've had an opportunity to work directly with many of you during my time here and have always believed the people of this company make it the best in the industry. While we certainly have had our challenges over the years, I truly believe that we have a scorecard of which we should be proud.
I am optimistic about the future of Penton Media. We have great brands, great people, supportive ownership, and an Executive Leadership Team that is committed to driving the organization forward. While the economic conditions have made this a difficult year, Penton is a strong company and we are well-positioned for future growth.
Thank you,
John French
[EDITOR'S NOTE: Check FOLIOMag.com throughout the day for updates to this story.]
Meet the Author
---