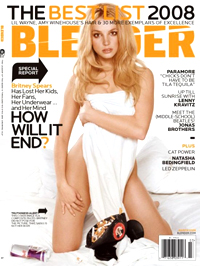 Blender magazine has folded, its owners, the Alpha Media Group, announced today.
The April issue will be its last.
"Given the reality of the current economic climate, we are unable to continue publication," CEO Steve Duggan said in a statement.
Approximately 30 people will be laid off as a result, an Alpha spokesperson told FOLIO:.
Of the music magazines tracked by the Publishers Information Bureau, Blender suffered the most severe losses last year, with ad pages plummeting 30.6 percent. Total paid and verified circulation increased slightly last year but newsstand sales fell 17.8 percent to 44,233, according to FAS-FAX figures.
Alpha will continue to produce Blender.com, the company said.
Also as part of the announcement, Alpha said it is combining the editorial operations of Maxim and Maxim.com. Blender's editor, Joe Levy, was named editor-in-chief. Former Maxim Digital editor-in-chief Jay Woodruff was named chief content officer.