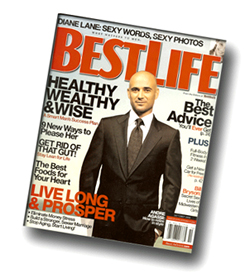 Emmaus, Pennsylvania-based Rodale has shuttered Best Life magazine. The May issue will be its last.
"Despite the great work of the sales team and the talent of the editorial staff, given the challenges of the advertising market and general conditions, Best Life could not meet our internal benchmarks, and we have made the decision to focus our resources on our core brands," president and CEO Steven Murphy said in a statement.
A Rodale spokesperson said the company is looking to reassign "several members of the team," including vice president and editor-in-chief Stephen Perrine and vice president and publisher Michael Wolfe, elsewhere within the company. The spokesperson declined to comment on specific layoffs.
Launched in 2004, Best Life carried a 500,000 rate base and total circulation was up 6.1 percent in 2008, according to FAS-FAX figures. Ad pages, according to the Publishers Information Bureau, were up 6.6 percent last year.

Check FOLIOmag.com throughout the day for updates to this story.