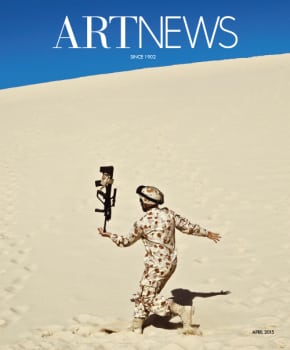 Art collector and publisher Peter Brant's consolidation in the art media space continues.
Brant Publications has assumed full control over the assets of several titles it already owned through last year's merger with Polish-based Artnews S.A., the company announced today, including Art in America, The Magazine Antiques, Modern, and ARTnews.
The development follows a series of management changes and consolidations among the various titles, culminating in the July 2015 purchase of a 60 percent stake in Artnews S.A. by BMP Media, a subsidiary of Brant Publications, for $16.9 million.
Artnews S.A., the company, dates back to May 2014, when ARTnews, the title, was acquired by Polish-based Abbey House Group, led by former Philip Morris executive Marcin Depczyk.
The subsequent July 2015 merger—which, once completed in October, gave Brant a controlling stake in ARTnews, a longtime competitor to Art in America—was quickly followed by the departures of both Depczyk and his daughter, CEO Izabela Depczyk, who had returned ARTnews to profitability in just over a year at the helm.
In something of a corporate maneuver, Brant Publications had sold 100 percent of its art titles to Artnews S.A. while also becoming a majority shareholder in the buyer.
ARTnews then shifted, late last year, from a monthly publishing schedule to a quarterly one, and the company announced that both ARTnews' and Art in America's digital content would be consolidated on artnews.com. Artnews S.A. tapped Vincent Fremont, a longtime Andy Warhol associate, as CEO this past January, replacing Depczyk.
"The U.S. magazines that BMP originally brought into this transaction, Art in America, The Magazine Antiques, and Modern, will continue their normal operation, as will ARTnews, under our management," said Brant in a statement. "This will allow us to begin to grow the U.S. magazines."
In addition to the four art magazines, Brant Publications also owns and operates Interview, the pop culture magazine founded by Andy Warhol in 1969.
This is a developing story.