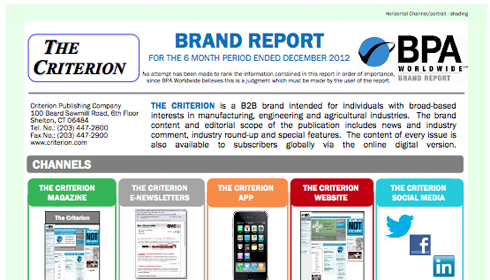 BPA Worldwide is planning to transition all of its business and consumer members to its Brand Report format, which allows audience developers to report audience metrics for all of a brand's media channels. The auditing firm will phase out its traditional circulation statement with the December 2013 reporting period.
In the meantime, BPA is debuting a new design for its Brand Reports—business members will have a green-hued report while consumer members will have a pink one.
About 300 members are now using the Brand Report, says BPA, and as it transitions the rest exclusively to the format it also adopted a new rule on total audience reporting.
BPA says there has been an ongoing debate over whether a brand's total, cross-channel audience footprint is a valuable metric. Some members argued a total audience figure offers no additional value to advertisers if there's no distinction between unique individuals.
"Today, recognizing significant input and anecdotal results from both media owners and buyers, the Board concluded that the sum of all media channels does not add value to the media buy as originally believed, and, in fact, has caused some general confusion in the marketplace over what the grand total number actually represents," says a report from BPA.
Accordingly, the total audience number will be removed from future Brand Reports. Specific media channel audience totals, however, will still be reported.
iCompli Services Expanded to Agencies
Early in 2012 BPA Worldwide launched its iCompli division, which was set up to greatly expand its auditing and tracking services to non-print related activities, especially digital, that involve monitoring standards set by other industry entities. This week, BPA expanded its iCompli services, launching Ad iCompli, which will track digital ad campaign performance across multiple sites, networks and exchanges.
See Also: BPA Worldwide Launches New Auditing Body
The marketer-facing program aims to consolidate data sets that are collected by separate measurement firms. Also, Ad iCompli will automate the comparison of campaign performance metrics.
According to BPA, online media buyers will receive near-realtime results on metrics such as viewability, positioning and engagement. The metrics are collected into a single dashboard where buyers can be alerted to problem areas in a specific campaign. The dashboard will also show whether the campaign is compliant with the original media plan.
When the campaign is over, BPA will provide an analyst to review the performance and provide an objective evaluation.
Ad iCompli has been in development for two years and was beta tested with several agencies for a year before launch.