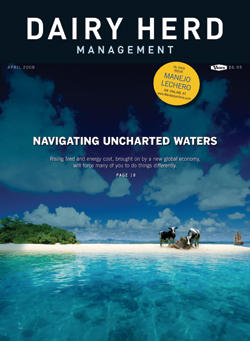 Taken literally, the cover of Dairy Herd Management's April issue is a bit off the logical mark. "Bovine pirates digging for treasure," as Face Up panelist Jamie Leary called them, do not immediately convey the cover story topic—the rising cost of cattle feed and its impact on dairy producers (who make up the magazine's audience).
And despite the dark sky—used to create a "foreboding atmosphere," says art director Rhana Castle—the turquoise sea and white sand conjure images of a Caribbean vacation spot, not a struggling dairy farm or production plant. (One panelist said the image might be better for a title like Dairy Herd + Leisure.)
Still, if I were a dairy producer, I think I'd welcome a cover like this on my desk. Reading a magazine at work—even one that's directly related to what you do—is a treat. So why not use a fun, appealing image—one that, like cows on a beach, turns the logic of an industry on its head—to catch a reader's attention? Isn't that the point of a cover?
As Paul Lee, design director for Sail magazine, noted, "design without compromises is what I consider design for design's sake." In the publishing world, design has a function—to drive readership and therefore revenue.
Now it's your turn to chime in. Take this month's Face Up survey and get a chance to win an iPod Shuffle.