Bound By Ink

Ozzie Winner: Best New Design, Consumer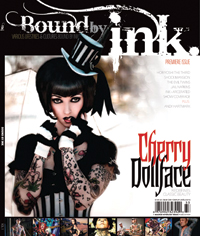 When veteran creative director Alan Alpanian was first approached with the idea of launching a tattoo magazine, he responded, "That sounds great, but I'd like to make it unlike anything else in existence from a delivery standpoint."
Alpanian knew there was an opportunity due to the increased popularity of tattoos, but he also knew from looking at the existing magazines in that space that there was a lot of room for enhancement.
"What we saw was that the majority of magazines were focusing on close-up photography of tattoos, with an occasional story about an individual," he says. "What we wanted to focus on was the lifestyle that goes with the story—what the tattoos meant to the individual, and their adventures, life and journey as a tattoo enthusiast."
To facilitate the artwork and striking design, Alpanian decided on a 9" by 10 7/8" format. "We use the larger format to accommodate our use of cool typography and striking photography.  The wider format provides us with an opportunity to do more with a page, especially when it's photo-driven."
The pacing of the magazine is another area in which Alpanian decided to break some rules. "Unlike traditional titles, where they will put departments up front, we open up with features right after the editor's page. But we're constantly going to be chiseling and evolving the magazine, as we have over the last four issues. The goal, as a brand, is to never stand still."
Alpanian works with his senior photographer, Andy Hartmark, on covers and most of the inside of the magazine. He found Hartmark on MySpace. "He is an independent photographer, specializing in tattoo subjects, and his approach was very much in line with my vision of how the magazine should look."
Regarding ongoing design elements, Alpanian says, "Although we vary typography from story to story, there is a visual thread to the design that is very much noticeable and recognizable.  We're basically carving our own look through the use of typography and photography as well as how we use graphics devices as decorations around the page."
The year-old quarterly magazine now has a circulation of 175,000, and a very active supporting Web site and Facebook group.
Meet the Author
---