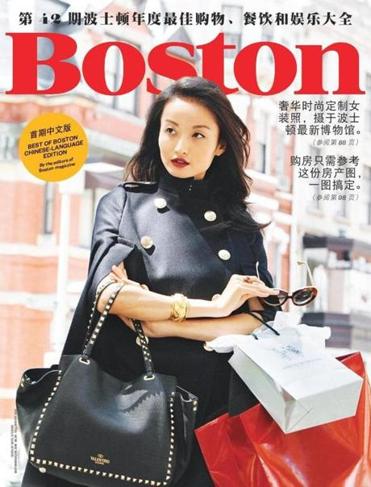 Boston magazine is taking an interesting approach to developing an audience of one very specific type of reader. The title will publish a biannual Chinese-language aimed at "tourists, students and investors" starting this month, the Boston Globe reports.
The introductory special issue will feature translated content (nothing original, though) from the main magazine's annual Best of Boston issue, it's best restaurants feature and other lifestyle coverage.
"It's definitely an experiment for us," says Boston editor Carly Carioli. "We don't know of any other city magazine that's doing this."
About 35,000 copies of the issue will appear on newsstands at Logan Airport, in hotels, college campuses and popular tourist spots. Priced at $6.99, it's a step up from the English-language version of the issue which sells for $4.99.
While local titles often print special issues targeted at narrow segments of the surrounding population—weddings, home décor and seasonal guides tend to be popular—publishing in a second language is a new spin on the idea. Aimed at a demographic that is reported to be bringing a lot of cash with it, the project should resonate with advertisers at least.
The reader side of the equation is hazier, but the move could be a way to bolster flagging newsstand sales for the Boston brand. Its flagship publication has seen it's single-copy circulation drop by more than a third, according to the Alliance for Audited Media, slipping in each of the past five years.