Boston Lays off Six, Brings Back Publisher

Minnesota Monthly editor tapped as new editor-in-chief.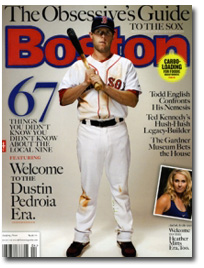 Boston magazine announced today an organizational restructuring for which six positions across editorial, marketing and online departments were eliminated.
Editor-in-chief James Burnett is leaving the magazine. He will be replaced by Minnesota Monthly editor Andrew Putz. Larry Platt, editor of Philadelphia magazine and editorial director of Boston parent Metrocorp, will serve as acting editor until Putz joins the magazine July 22.
Also included among the cuts is creative director Patrick Mitchell, a spokesperson confirmed. A replacement has not been named.
Citing "cyclical economic factors," Metrocorp said Boston staffers will take an unpaid weeklong furlough before the end of the year. "I am very bullish on the short-term and long-term future of Boston magazine," Metrocorp chairman Herb Lipson said in a statement.
Metrocorp also said Paul Reulbach is returning to Boston as publisher. Reulbach held the top sales spot for five years until he left the company in 2007. Most recently he served as general manager and vice president of the media sales and consulting group at the Pohly Company.
Meet the Author
---