Borrowing in a Time of Credit Crisis

Loan and covenant terms have tightened. Here's what lenders are looking for.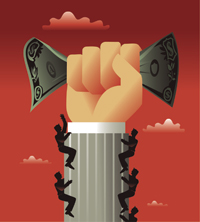 The credit crunch, which began in July 2007 as a result of the subprime fallout and subsequent fallout in liquidity, is pinching the magazine industry well beyond just magazine M&A. "You've got to spend money to make money" or so the old saying goes, and at a time when publishers are trying to reinvent themselves by investing in online staff, technology and even new media companies themselves, loans are necessary to fund the growth. But getting those loans at a favorable rate is much harder than it was two years ago.
"Lending levels and terms are much less liberal," says Ray Shu, media team leader for GE Media, Communication and Entertainment Group, part of GE Capital Markets Inc. "Funded leverage (on both a senior and total basis) has dropped meaningfully."
Previously, financing was available at up to 5.5x senior debt and up to 7.5x with a second lien or subordinated debt tranche for many publishing deals of scale ($15 million+ EBITDA companies), according to Shu. Average equity-to-total capital levels were typically in the 25 percent to 30 percent range. In today's market, senior debt leverage levels are in the 3.5x to 4.0x range with total debt levels topping out at 5.0x to 5.5x. Average equity-to-total capital requirements are typically in the 45 to 55 percent range, says Shu.
"Gone are the days when the senior first lien piece is up in the fives and maybe a little bit more with the second lien or mezzanine," says Chris Mangan, managing director and head of U.S. media finance with Stamford, Connecticut-based Bank of Ireland. "If you consider we're a year into this credit crunch, leverage multiples are off at least a full turn at the senior and mezzanine levels."
Publishers with multiple adjustments to their financial statements won't have much wiggle room. "Lenders are looking for clean financial statements—free adjustments and/or add-backs, particularly for acquisition targets—and consistent, solid financial performance from the existing company," says Tom Flynn, chief financial officer at Summit Business Media (which completed its last major refinance last July right before the credit market soured). "There is not as much flexibility in the marketplace on terms and conditions as there was in prior years."
No More "Covenant Lite" Deals
Publishers not only have to contend with higher lending terms but also stricter covenants on loans. "At the height of market activity, many of the larger deals (over $250 million in facility size) were getting done with no maintenance covenants on term loans and typically one covenant on the revolver upon incurrence of additional indebtedness (so-called "Covenant-Lite" deals)," says Shu. "To the extent deals had more than one covenant, cushions were typically large (over 30 percent). Other items such as Equity Cures were also commonly negotiated into credit agreements."
Now covenant-lite deals are coming back to haunt some lenders. "As GE generally avoided Covenant-Lite deals, we're able to remain very active in today's lending environment while others that had larger exposure to those types of deals are being kept at bay," says Shu. "For the most part, we're seeing the market return to more conventional covenant types and thresholds."
"Covenants are being set with a little less headroom than in recent history," says Mangan "It wasn't uncommon to see a covenant set with a 20 percent to 25 percent cushion against operating plan. Now we're seeing 20 percent is the high end of the range, normally it's probably closer to 15. The biggest change is pricing. We've been in this situation now for 13 or 14 months where the pricing has continued to move against issuers. It's not uncommon to see first lien senior debt priced 500 or 600 basis points over libor."
Publishers are held to much stricter covenant terms. "Tighter covenants mean the margin for error is much less than it was just a year ago either in your base business or just your acquisition targets," says Flynn.
What Lenders Look For
Still, publishers that have positioned themselves with multiple revenue streams and emerging new media models are more likely to receive favorable terms which have always been differentiated depending on business model, scale of the company, competitive positioning, and other factors. An established publisher with a category-leading product offering and scale is generally going to receive more favorable financing terms and conditions than a smaller, less-seasoned publisher with developing product offerings.
In the current environment, lenders and investors are placing more value on publishing companies with successful e-media and event businesses as part of their total company mix and, as such, are more willing to provide more favorable financing terms. Subscription-based and usage-driven revenue sources in particular are considered a valuable component, especially in the weaker advertising environment.
"Generally, in the b-to-b space, we look for companies with either the #1 or #2 position in their category that can deliver their content to audiences in a variety of ways, from print to online to in-person events," says Shu. "The #1 or #2 position is important since in a slower economic environment, advertisers or sponsors with a smaller budget will typically gravitate toward the market leaders. A seasoned management team that has operated through various economic cycles is critical as well."
Mangan says the most important consideration is diversity of cash flow. "Properties with single titles are the toughest to finance," he adds. "Diversity of flagship titles and a complement of events and trade shows demonstrate that diversity of collateral, for a lack of better phrase. With the loss of eyeballs on the print side, you want to see the Web bridging that gap."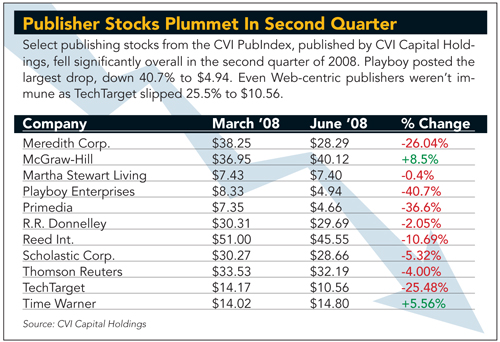 Agreements Are Subject To Change
Publishers with existing loan agreements shouldn't feel that their terms are locked in. "I have noticed that, for existing credit agreements—especially those that were negotiated prior to the credit markets becoming much more challenged—the lenders are holding you 'to the letter,'" says Flynn. "There is a general feeling that banks are much more inclined to charge not just fees for changes and amendments but also implement a repricing for what, in the past, may have been a rather minor change to an existing agreement. This can be frustrating to a business even with an existing agreement."
But being a proven performer can go a long way toward a favorable relationship with your lenders. "You must continue to deliver the financial results as agreed to in your financing agreements," says Flynn. "You have to focus on having your existing assets perform and continue to invest in assets with upside potential and take advantage of areas for consolidation to mitigate risk in the sluggish economy. Everybody is feeling it. Once the market settles a bit, you want to be a proven performer whom the lending partners want to continue to do business with and help grow your business."
And at the end of the day, the banks need you almost as much as you need them. "Banks are in the business of lending—if they don't lend, they don't make money," says Jeff Reinhardt, managing director at Berkery Noyes. "Right now, the private equity folks are having a tough time and they're putting more of their own money into the businesses they're buying. When the credit terms loosen up, they will sell off or take on greater debt. But in the meantime, they want their money to stay working."
Meet the Author
---