Boom or Bust with Facebook

Recent algorithm changes mean everything (and nothing) to enthusiast publishers.
Science magazine Discover had 69,000 Facebook likes at the beginning of 2013. Growing steadily, that audience had doubled by September. Then in October, it doubled again. November? Again. By January, they'd hit the 1 million mark and, as of March 1, stood just shy of 2 million Facebook likes—a 1,300-percent increase in five months.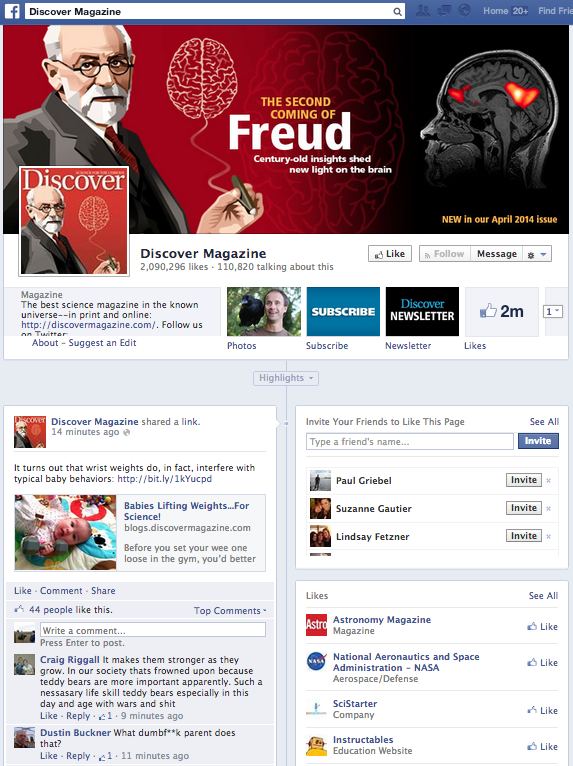 How'd It Happen? They're Not Really Sure.
Facebook tends to guard the details of its News Feed algorithm, only hinting at the types of content it's looking to promote. In early December, the site announced that it was changing its formula to include more "high quality articles" though.
The tweaks appeared to aim squarely at viral meme sites. Headlines like Upworthy's "It Would Be Hard For Me To Believe People Actually Said This Stuff…Except I've Heard It Myself" that had played well, presumably wouldn't be as effective.
There have been questions around how the algorithm change has actually impacted referral traffic to those sites. For many, visits declined in the early part of the year, but only time will tell whether that's been a function of Facebook's tweaks or a natural valley in a longer cycle; other sites have seen traffic go up.
Enthusiast publishers like Discover produce a much different type of content though. While a lot of it is image-centric and sharable—think science, epicurean and outdoors magazines—it's also timely, targeted, newsy and often features original reporting. It's exactly what Facebook says it wants to promote ("People prefer links to high quality articles about current events, their favorite sports team or shared interests," Facebook's announcement reads.)
"If what's being elevated is not just sharable content—like the BuzzFeeds and Upworthys, and what we do sometimes too—but you'll also be bumped up for news value, then that's great for us," says Lisa Raffensperger, an associate editor for Discover who manages the site's social presence.
See also: How The Onion Builds Its Viral Game Plan
Discover's rapid growth actually started before the Facebook algorithm adjustment however and, Raffensperger says, happened without any conscious changes to the editorial or social media strategy. Its "like" count also grew much faster than referral traffic back to the site.
They've since adjusted how they're using the platform though, implementing best practices like re-posting popular items, creating weekly roundups and posting on weekends, which has boosted traffic. DiscoverMagazine. com now gets roughly 20 percent of its 1.5 million monthly unique visitors from Facebook, up from 7 percent in September.
Still, the surge is largely a mystery for them. Raffensperger points to the site's most successful Facebook story, "Grandma's Experiences Leave a Mark on Your Genes," which got more than 86,000 likes and was published in June—way before the expansion of Discover's audience.
"That was one of the really interesting spikes we've seen in organic reach," she says. "It wasn't anything like Upworthy in style at all. It wasn't short, it wasn't innately sharable. It was a long feature we did on genetics."
Beating Facebook's Odds
While some publishers hit the Facebook jackpot, others have had to find ways around the murky selection process to build a following independently.
American Patchwork & Quilting had less than 50,000 likes and got only about 4 percent of its traffic from Facebook until the team started a direct outreach program with the brands it was covering. They've quadrupled their Facebook audience and more than doubled referral traffic from the platform since the initiative began last fall.
APQ started contacting the designers and fabric companies it featured in its print magazine, sending them watermarked images along with pre-written copy and links that brands would post on their own accounts. Jennifer Keltner, executive editor of the magazine, says the team reaches out to about 20 brands per issue which generates more than 150,000 additional impressions.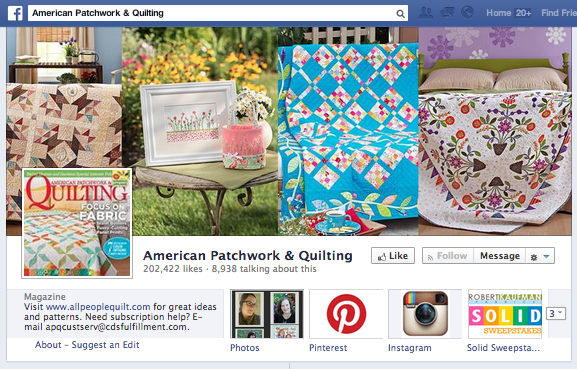 Pre-packaged posts aren't new—share buttons on most sites have done it for a while on a general level; Amtrak caused a minor stir when it sent out suggested tweets in a press release last summer—but the targeting of specific players in a market and customizing messages for them has had a definite impact, Keltner says.
As a smaller publisher, APQ looks at its social media differently than the big traffic-centric sites though. It's less about driving scale and CPMs, and more about branding and pulling readers into their paid products like print. It has a reason to be protective of its core assets, but it's found a way to market against them while keeping a measure of ownership.
"For a lot of print brands, the old school thinking was that you had to protect your photographs and property," she says, "but by watermarking the images we can protect those assets and distribute them the way we want them distributed as opposed to people just picking them up and pasting them into other things."
See also: Publishers Talk Generating Revenue With Social Media
Unlike Discover however, APQ appears to have taken a hit after Facebook's algorithm change. Likes and traffic leveled off sharply in early December and growth stagnated until last month when it began to pick up again.
The timing of the re-energized growth actually came in tandem with another Facebook change. In a sense, APQ has been practicing a behavior that the platform decided to formalize in February. Brand pages can now tag each other in posts and get exposure to the other's readers, even if those readers aren't part of their own network. APQ can tag Moda Fabrics, a fabrics distributor, for example, and the post will appear in the News Feeds of Moda's followers.
It looks like outreach will continue to play a role going forward, but quality, clicky-ness and sheer luck are still part of the equation. There's no one formula for virality on Facebook.
Meet the Author
---