Bonnier Title Taps Barcode Tech, Lures Back Advertisers

WakeBoarding becomes publisher's first title to utilize growing technology.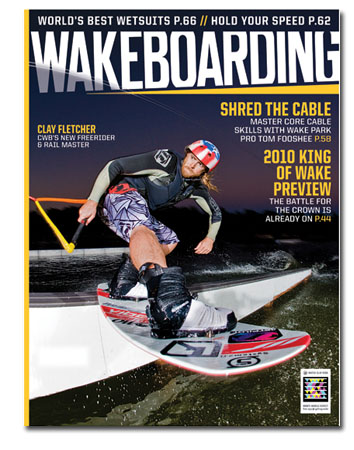 Boating magazines were among some of the hardest hit last year in terms of advertising revenue losses. Bonnier Corp.'s WakeBoarding recently turned to technology to help offset some of those dramatic losses.
On the cover of its April issue, WakeBoarding features a 2-D barcode in the lower right-hand corner that reads "Watch Clay Ride." Like other barcode technology, consumers scan it using the internal camera on a smartphone and are directed to an online video of the same athlete in the cover image, riding the same wakeboard.
To accomplish this, WakeBoarding utilized Microsoft's High Capacity Color Barcode technology, which currently is in beta and available to users free of charge. "For our initial application of the technology our aim was to satiate the desire of a reader when they see an amazing image, like April's cover shot, and want more than that still photo can offer," WakeBoarding associate publisher Jason Bingham told FOLIO:. "What's so great about Microsoft's 'Tag' technology is that it's so easy to program and use that we didn't need much help from them at all."
Microsoft says its HCCB "Tags" utilize advanced computer imaging and employ different symbol shapes in geometric patterns and multiple colors "to provide more information in less space." In addition, HCCB tags are generally smaller than other barcodes; a typical format starts at 3/4" x 3/4". (See below for a video demo, via TechFlash.com.)
Making the Technology Talk (In Dollars)
Beyond leveraging a cost-effective technology to deliver an expanded experience for its readers, Bingham said about half a dozen advertisers that previously had ceased advertising in WakeBoarding came back to participate in the April issue. A number of those signed on for more than just the one issue. Bingham attributes the spike in advertiser interest to the "engagement aspect of it and how relevant it is in today's digital world."
Technically, Bingham said, the April issue was 25 percent behind the same issue last year in terms of advertising (WakeBoarding took a dramatic ad hit like other boating titles last year). "But since the tag just debuted this year, and how the ad production is scheduled, all the benefits and ad revenues from returning clients will be in the next issue and beyond," he said.
WakeBoarding—which carries a paid print circulation of roughly 50,000 and publishes nine times annually—is the first of Bonnier's magazines to utilize Microsoft's HCCB tags and is the first to use any type of barcode technology at all. Bonnier's TransWorld Surf and Sport Diver will feature barcodes in their upcoming issues. Scuba Diving and Islands also are looking to utilize the HCCB.
Bingham said the April issue of WakeBoarding only "scratches the surface" of what print magazines can do with barcode technology. "We are at an amazing intersection of hardware, software and user adoption all being at the right place at the right time," he said.
Meet the Author
---