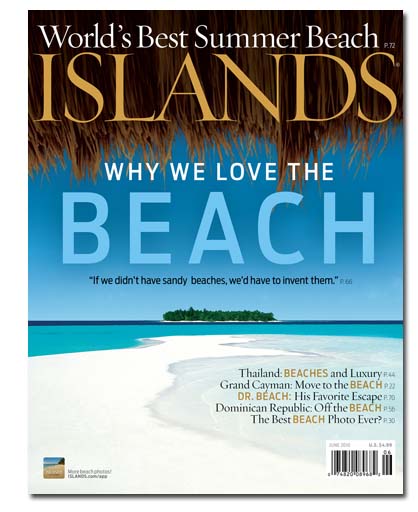 The team at Bonnier's Islands magazine took some cues from sister title WakeBoarding when they put together their June issue which integrates tagging technology with mobile apps. Readers are able to access four apps developed by Islands editors by using a smartphone to scan 2-D barcodes within the issue's pages.
The cover features an app icon and URL for a "Pictures" app the Islands edit team created that is available exclusively in the Apple iTunes Store. It offers users a gallery of island photography, photo quizzes, and a photo feed of editors' travels. The app also was promoted inside the magazine on the editor's letter page, in a house ad and in a feature story.
The magazine also used 2-D barcodes, created using Microsoft's High Capacity Color Barcode technology, to unlock three free Web-based apps: Islands Recipes, Islands Reader's Choice and Islands Travel Guide: Dominican Republic. "For this particular issue, each of the three Web apps organically fit as an extension of what was in the magazine," Islands brand manager Chris Tauber says. "And repurposing content or drawing on previous research was fairly efficient for us in each of these cases."
The Recipes app is an extension of the magazine's food column, the company says. Meanwhile, the Reader's Choice app builds off the issue's "2010 Photo Contest" feature and the Travel Guide is an interactive connection to a feature story on the Dominican Republic.
All four apps were created in-house, Tauber says. For the Pictures app, Islands editors utilized the iPhone SDK developer program, which is commonly used by developers to create iPad, iPhone and iPod touch applications.
"Response has exceeded expectations, with a solid rise in downloads for the Pictures app coming when we soft-launched it on Islands.com and Islands.com/Facebook," says Tauber. "In terms of scans, the Recipes app is winning so far."
Earlier this year, Bonnier's Wakeboarding and Sport Driver also utilized Microsoft's HCCB tagging technology to direct readers online for additional interactive content.
Tauber says Islands so far isn't charging for the Pictures app in Apple's iTunes Store but says it will experiment with different pricing models with future apps. "Right now we're focusing on learning how to best use and execute them and gathering metrics that we can then share with clients," he says.