Bonnier to Rebrand WakeBoarding

Magazine will feature new look and will be folded under TransWorld umbrella.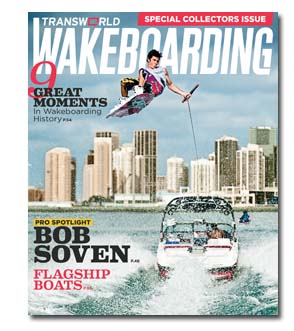 Bonnier Corp.'s WakeBoarding is getting a new look and new management. The magazine is transitioning under the TransWorld Media umbrella and will launch a redesign with the November/December issue. Moving forward, the magazine will be called TransWorld Wakeboarding.
According to Matt Hickman, the magazine's recently-appointed director of brand strategy, aligning WakeBoarding with Bonnier's other TransWorld titles will strengthen its brand recognition and allows the company to offer more integrated programs to advertisers. Among the TransWorld Media brands are TransWorld Skateboarding, TransWorld Snowboarding, TransWorld Surf and others.
In addition to a redesign and new editorial departments, TransWorld Wakeboarding is increasing its trim size from 8-1/8 inches x 10-3/4 inches to 9 inches x 10-7/8 inches. The magazine also is increasing its paper quality from 45-pound grade 4 to 50-pound grade 3. Its cover is changing over from 80-pound grade 3 to 130-pound grade 2.
The 50,000-circ title also is scaling back frequency from nine times to eight times annually.
TransWorld Wakeboarding's Web site, Wakeboardingmag.com, will now be extended from the TransWorld.net network of sites, which averages 1.3 million unique visitors and more than 13 million page views per month.
A Bonnier spokesperson says no layoffs are associated with the transition. In fact, new hires have been made recently on the business and editorial sides.
Through the first half, WakeBoarding reported a 41.1 percent decline in advertising pages over the same period last year, according to Publishers Information Bureau figures.
Meet the Author
---