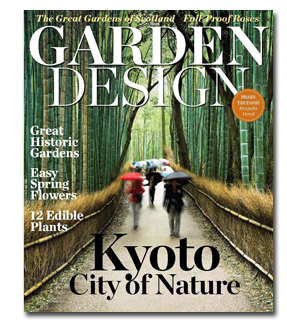 SEE ALSO: Ex-Garden Design Editor Goes Digital
A lot of changes are happening at Bonnier Corp.'s Garden Design magazine. Two months after the departure of top editor Sarah Kinbar, the magazine now has a new editorial management team, a new design and is relocating from Bonnier's headquarters in Winter Park, Florida to New York City.
Replacing Kinbar as editor-in-chief is William L. Hamilton, a former reporter and editor with the New York Times. Ex-All You executive editor Greg Ferro was named executive managing editor and James Oseland, editor-in-chief of sister Bonnier title Saveur, will serve as editorial director.
In addition to Kinbar, four other staffers are leaving Garden Design—two are being reassigned elsewhere within Bonnier while another two are leaving the company altogether.
And, beginning with the magazine's January/February issue, Garden Design will feature a new design as well as a new roster of contributing editors. "We felt it was the perfect time [to overhaul Garden Design] because the kind of magazine we're creating has never existed before—a smart, gorgeous publication with an eye toward green living that blends together the best of exterior design with interior style," a Bonnier spokesperson says. "We felt that our readers were ready. We're making a sophisticated magazine that's going to suit their lifestyles and interests to a tee."
The 250,000-circ title will continue to publish seven times a year, Bonnier says.