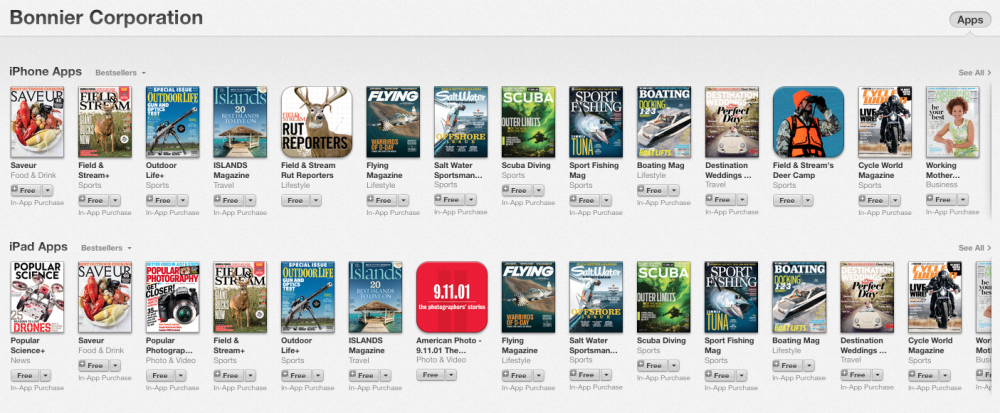 Bonnier Corp. is moving its digital editions off of the Mag+ platform—a platform it helped create and one that's owned by its Sweden-based parent company, Bonnier AB—and onto Adobe's Digital Publishing Suite system.
A spokesperson for Bonnier confirmed the transition, but did not comment.
For Mag+, the news comes as it pivots away from magazines and toward corporate applications like sales and marketing collateral, internal communications and training. The company says around 80 percent of its clients come from outside the traditional publishing world.
"Although we are, of course, personally disappointed to lose Mag+'s first brand, Popular Science, Bonnier Corp is an entirely independent business from Mag+, and we recognize that many factors come into play when making these decisions," says Gregg Hano, CEO of Mag+ and a former senior vice president at Bonnier Corp. "From a business perspective, the impact is negligible. Mag+ has nearly 3,000 apps spanning both traditional publishing as well as business communications. We see the vast majority of our new business, as well as the strongest growth potential, in a variety of corporate applications."
Bonnier currently has about 30 apps for its magazines and was among the first publishers to develop an iPad app. Using Mag+, Popular Science+ launched concurrently with the iPad in early 2010. It's Bonnier's biggest digital title with withmore than 57,000 users, according to the Alliance for Audited Media.
Despite owning Mag+, Bonnier AB had already established a relationship with Adobe DPS beginning in 2010. The companies worked together on a newspaper app platform, News+, though the project appears to have been scrapped since.
Talking New Media first reported the story.
*Editor's note: An earlier version of this story incorrectly referred to Bonnier AB as a Swiss company.