Bonnier Launches Science Illustrated App

January/February edition sells for $2.99.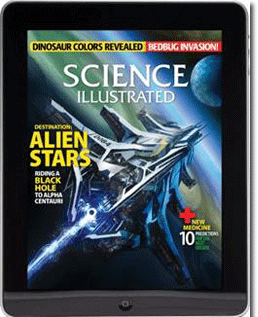 Bonnier Corp. today launched Science Illustrated+, a tablet edition of the magazine. The January/February issue is available in the iTunes App Store for the introductory price of $2.99 per issue.
Science Illustrated+ was developed on Bonnier's own Mag+ platform for tablet devices. Highlights of Science Illustrated +'s January/February issue include "An Oasis of Contrasts," a digital pictorial of the world's freshwater wetlands, which features iPad-exclusive video footage.
Last month Bonnier launched an iPad-only version of Parenting called Parenting Seasons, a quarterly with pricing starting at $2.99, dropping to $1.99 in the middle of each seasonal quarter and $0.99 at the end of the quarter. The Winter edition features Gerber and Huggies as launch sponsors.
"The challenge of an iPad-only issue is it's a lot more work," digital editorial director Rachel Fishman Feddersen said of Parenting Seasons. "I've seen a lot of magazines take their pages and pin it to the iPad and that's it. This is an entirely new magazine. We designed it just for vertical viewing. We think when someone wants to start reading, they don't want to keep turning the device back and forth."
Meet the Author
---