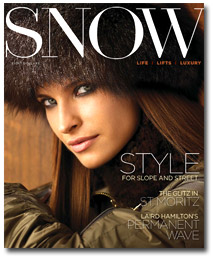 The Bonnier Corporation has recently added another title to its list of ski enthusiast titles, but this time with a luxury twist.
Snow, which quietly launched at the end of November, celebrates "the lifestyle surrounding the slopes." With the tagline "Life, Lifts, Luxury," Snow covers ski destinations around the world that only the affluent have access to.
Unlike Ski and Skiing magazines, which are more directly focused on the sport itself, Snow will focus more on luxury activities such as après skiing, and the "après-après-ski hot tub" at resorts including Aspen, Telluride, Vail/Beaver Creek, Sun Valley, Deer Valley/Park City, Jackson Hole, Tahoe, as well as international destinations such as Whistler, Chamonix, Courchevel, Lech and Gstaad.
"Snow views the world of snow sports through the eyes of those people looking for a truly high-end alpine experience," Dana Raven, consumer marketing director, Lifestyle Group, Bonnier, wrote in an email. "It is focused for those people that are passionate about pursuing the resort lifestyle at its most luxurious level. Five-star accommodations, designer ski wear, fine jewelry, gourmet dining, premium equipment and personalized services are just some of the items readers will find in the pages of Snow."
The company also announced that Snow is now available in a digital format on Zinio's distribution platform (click here for digital preview). "We really wanted as much exposure as possible, and this was a good avenue to get additional potential subscribers to hear about our product," said Raven. "We also wanted to capitalize on the excitement generated with a new launch, so it made sense to try and capture our digital audience as quickly as possible."
In addition to being able to reach international subscribers in a quicker and more cost effective way, Raven says the affluent market will value from having both the digital and print versions simultaneously.
"I believe the affluent market both domestically and internationally are interested in being able to pull up the latest issue on their laptop whether they are in the ski lodge at the resort or on a plane traveling for business. Print and digital subscribers will be separate for the most part, depending on lifestyle. We will see a few though that want a copy for the coffee table at home, but also want quick and easy access to their current issue while traveling."
Raven added that the company will focus their marketing efforts for Snow through hotels, airlines and demographically appropriate shops, as well as some cross promotion to current subscribers of other Bonnier titles. Advertisers in the first issue include Aexjet, Grand Marnier and Dennis Basso.
Three issues of both the print and digital version of Snow are planned through February.