Bonnier Launches i-Pad-Only Version of Parenting

Quarterly edition features tiered subscription pricing.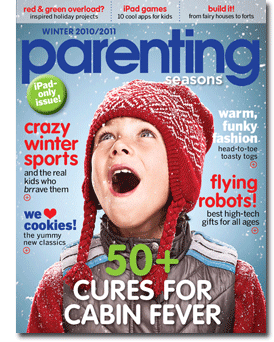 While publishers are scrambling to adapt existing print editions to the iPad, Bonnier Corp. has launched an iPad-only edition of Parenting called Parenting Seasons, a quarterly that features exclusive digital content.
Parenting Seasons will offer Winter, Spring, Summer and Fall editions with a monthly calendar function that provides parenting tips and tricks. Pricing starts at $2.99 per issue during the beginning of each season, drops to $1.99 during the middle and sells for 99 cents at the end to correspond with the timeliness of the featured calendars. The Winter edition features Gerber and Huggies as launch sponsors.
"We think we're providing real value," says digital editorial director Rachel Fishman Feddersen. "We didn't want to just toss something on the iPad, we want to give people a lot for their money.
Each issue includes a dedicated designer and editor who worked with the internal Bonnier art team/design team to pull it together.
"The challenge of an iPad-only issue is it's a lot more work," says Fishman Feddersen. "I've seen a lot of magazines take their pages and pin it to the iPad and that's it. This is an entirely new magazine. We designed it just for vertical viewing. We think when someone wants to start reading, they don't want to keep turning the device back and forth."
Meet the Author
---