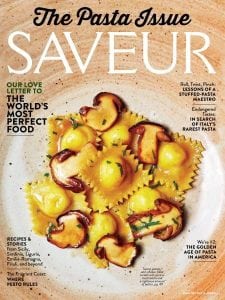 The rise of the chatbot is becoming less and less gimmicky as publishers continue to find valuable use cases for them. Bonnier's Saveur was the latest magazine media brand to introduce one, when it revealed its recipe bot last week on November 1st.
Bonnier teamed up with the Microscoft-owned messaging platform Skype which allows users to chat about recipes and tap into Saveur's trove of content.
"It's an experiment in its purest form, borne of mutual enthusiasm and curiosity," says executive digital editor, Max Falkowitz. "Skype and Microsoft want to get people comfortable with talking to their computers, and leveraging established brands people love is a smart way to do that. We want to push the boundaries of how media companies can interact with users and win over potential users, and Skype is a great platform with enormous scale."
It's not purely experimentation for the sake of it, it also has the potential to hook new brand loyalists. Falkowitz indicates a segment of the Saveur audience loves kitchen tech so interacting with a bot is an innovative way to engage those folks.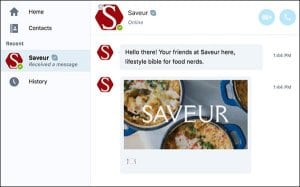 As previously noted, the scale of Skype is significant here for a brand like Saveur, which has a bi-monthly print audience of under 500,00 and a digital audience of somewhere around 10.5 million. It's a mechanism to reach well beyond the brand's wingspan. "Tens of millions of people use the Skype platform, and a lot of them are Saveur super fans who just don't know it yet," Falkowitz says. "They own sous vide machines. They plan their vacations around where to eat. They read about food and culture all the time. For them, we saw a chance to use a new technology and a popular emerging niche—the science of how food works—as a kind of Trojan horse to introduce them to what Saveur is and what we do. Find users where they are. Lure them in with something they dig. Then once you've got their attention, show them everything you can do on your own platform."