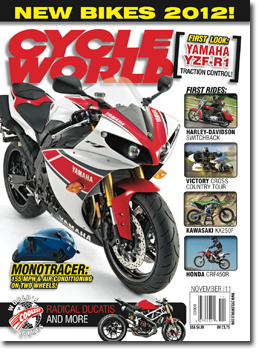 In a continuum of an acquisition series that has become Bonnier's growth strategy, the publisher acquires Hearst's Cycle World. Terms of the deal remain undisclosed.
Cycle World will be integrated into Bonnier's Outdoor Group, led by vice president and group publisher Eric Zinczenko. The monthly magazine, with a current circulation of 235,000, will retain its current staff.
Terry Snow, CEO of Bonnier, tells FOLIO:, "I met the publisher and editor [VP of integrated sales/marketing Andrew Leisner and VP of brand content/EIC Mark Hoyer] during the process. They think like us: they live their sport, their industry."
Snow says Bonnier had Cycle World on "its target list" when the publication was still published by Hachette, "It was fortunate for us that it didn't fit in with Hearst's portfolio and it fit in with us."
Cycle World was officially put on the block by Hearst, which enlisted media broker Jordan, Edminston Group to handle the sale.
Of Bonnier's acquisition strategy, Snow says, "At Hachette where Elle [was] the big money maker, it's hard for those small titles to get attention. We're structured differently; we can give the small titles the attention they deserve."
The Outdoor Group includes titles such as Field & Stream, Outdoor Life and SHOT Business. Despite a turbulent first half 2011 for many publishers, the Outdoor Group experienced an upshot in ad pages: Field & Stream is up 26.2 percent, gaining 252.84 ad pages first half 2011 from 200.31 ad pages in first half 2010. Outdoor Life also experienced a spike, up 22.8 percent in January to June 2011 with 194.43 ad pages. In the same time period in 2010, Outdoor Life had 128.27 ad pages.
Cycle World saw its own gain in first half 2011, up 4.1 percent to 290.46 ad pages from first half 2010's 302.32 ad page, per PIB.
Past notable Bonnier acquisitions include the January 2007 18-title purchase from Time Inc. The deal included: Parenting, Babytalk, Popular Science, Field & Stream, Outdoor Life, Yachting, now all-digital MotorBoating, Salt Water Sportsman, Skiing, SKI, TransWorld SKATEboarding, TransWorld SNOWBOARDING, TransWorld MOTOCROSS, TransWorld SURF, ride bmx, QUAD, SHOT BUSINESS and TransWorld Business.
Snow says, "There isn't a day that goes by that we're not looking at…add-on acquisitions that make sense for us. We're actively looking: whether it be for print, digital or events."