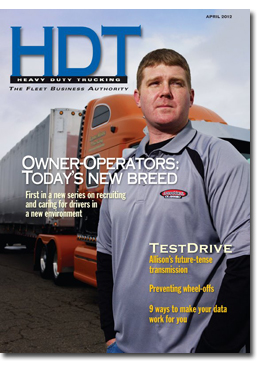 Bobit Business Media, the b-to-b media company specializing in the vehicle-fleet business, announced Tuesday that it has has acquired Newport Business Media, whose brands include Heavy Duty Trucking (HDT), TruckingInfo.com, Heavy Duty Aftermarket Journal and Newport Poster Network.
Newport Business Media, based in Schaumburg, Illinois, has been family owned and operated for 60 years. "Newport has always concentrated on serving the heavy-truck industry with editorial excellence and premier marketing services," said CEO Jim Hutchinson. "We know that Bobit will use its highly successful publishing expertise to build on those strengths."
For his part, Bobit CEO Ty Bobit called the acquisition an opportunity to move into a new but related market. "These heavy truck properties fill a void we've had in our fleet coverage," Bobit said. "Now we cover ALL the fleet vehicle markets and we can build a powerful fleet database. HDT is the most recognized and honored magazine in the commercial vehicle field, and Truckinginfo.com is the number one Website in trucking. Their addition makes Bobit the largest fleet media company in the world."
Kate Miller, president of the Newport Business Media properties, will continue to lead those brands as VP/Group Publisher-Truck within the renamed Bobit FleetGroup, which is led by corporate VP, Sherb Brown. The Newport staff is expected to join Bobit.
Bobit Business Media produces 24 magazines and websites and 12 industry trade shows and conferences, including Automotive Fleet, Government Fleet, Work Truck, Auto Rental News, Green Fleet, Business Fleet, Metro Magazine and School Bus Fleet.