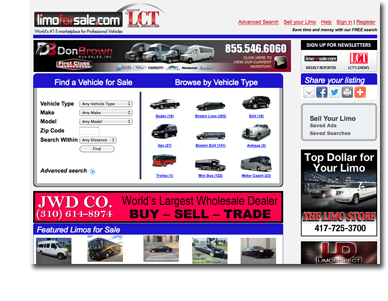 Bobit Business Media said Friday that it has acquired the assets of Limoforsale.com, a portal for buying and selling used limousines and other vehicles, from Limos.com, a site that brokers limousine services at discounted rates.
Bobit, based in Torrence, California, had been managing the operations of the site since early 2012. Bobit made design and development improvements that simplified payment methods and allowed users to upload multiple vehicles easily. It also created the LimoForSale Weekly Reporter e-newsletter to promote vehicles on the site and help buyers understand what to look for when buying a used vehicle.
This is Bobit's first acquisition of a purely Web business, but the site fits well into Bobit's existing Limousine Charter & Tour Group, which includes LCTMag.com, the International LCT Show, the LCT Leadership Summit, and the recently announced LCT Eastern Conference. The site generates an average of 350,000 pageviews per month, Bobit said in a press release. The average visit has a duration of over seven minutes. An SEO powerhouse, the site is the top-ranking search result for used limousine sales.
"Our goal with this acquisition is to deepen our commitment to the professional chauffeured transportation market," said Bobit CEO Ty Bobit. "We wanted to create a site that was safe, consistently effective, and very professional for our industry. Buyers and sellers know the LCT brand as trustworthy and that when we put our name on something, we're ensuring our industry that the experience will be professional."
Bobit's LCT Magazine celebrates its 30th year in publication in 2013. Bobit Business Media produces 24 b-to-b magazines, 43 websites, and 12 trade shows and conferences. It has several brands in the vehicle fleet market covering car and truck fleets, transit bus and motorcoach fleets, and school bus fleets. In addition to LCT, they include Automotive Fleet, Government Fleet, Heavy Duty Trucking, Work Truck, Auto Rental News, Green Fleet, Business Fleet, Metro Magazine, and School Bus Fleet.