Boating Group Launches Fishing Title

Angler magazine for people who "fish all the time," spokesperson says.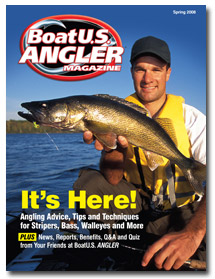 The Boat Owners Association of the United States has launched a new magazine for the members of its recently formed fishing program.
In addition to those members, Angler magazine, which was launched this week, will be sent West Marine boating stores throughout the country. Published three times per year, the magazine has an initial print run of less than 50,000.
"This is the magazine for people who fish all the time," BoatUS spokesperson Scott Croft tells FOLIO:. "This is our way to share fishing stories, how-to information and important lobbying information—all things an angler needs to know to have a safer, better and more informed experience on the water."
BoatUS is a national boating advocacy group with 650,000 members.
Meet the Author
---