Bluff Media Acquires Stake in Mid-States Poker Tour

Plans to expand nationally and rebrand the events the Bluff Poker Tour.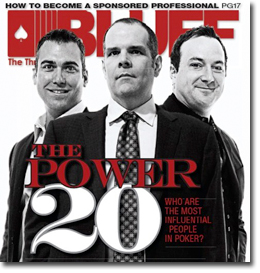 Bluff Media, publisher of poker industry magazine Bluff, has acquired a stake in the Mid-States Poker Tour (MSPT), with plans to immediately rebrand the event the Bluff Magazine Mid-States Poker Tour and eventually the Bluff Poker Tour.
The monthly magazine—which has a circulation of about 100,000, according to Bluff Media president Eric Morris—streams poker events live on its website and also operates an online tournament database, the pokerdb.com.
"We think it's just a matter of time before online poker is regulated, so we think there's going to be another bump in the market sooner rather than later," says Morris. "It's a good time to diversify our business a little bit to not just advertising in the magazine but developing our brand on the land-based level."

Bluff declined to offer further details on Bluff's stake in the tour.
Currently, the Mid-States Poker Tour consists of nine events per year, mostly in Minnesota and Iowa. With Bluff, the tour will up the frequency to twelve to eighteen per year, extending into cities such as Las Vegas, Biloxi and Tunica, as well as others in Oklahoma and Florida, says Morris.
Morris, with help from his web and editorial teams, plans to work closely with MSPT founder Bryan Mileski to run the events, which will also be broadcast on BluffMagazine.com using a Radio Frequency Identification (RFID) poker table that allows viewers to see players' cards. Morris says at this point, he doesn't expect to bring in outside sponsors beyond the casinos hosting the events.
Bluff plans to announce in the coming months an online component allowing anyone to compete virtually.
Meet the Author
---