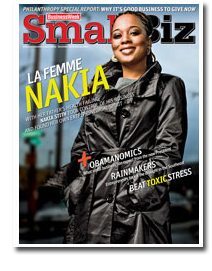 Bloomberg has quickly followed up its acquisition of BusinessWeek from McGraw-Hill by shutting down the title's SmallBiz spinoff, the company announced today. The bimonthly will cease publishing after the December/January issue.
Content from the magazine, which is distributed to 675,000 controlled-circulation subscribers, will be folded into Bloomberg BusinessWeek and integrated into the Small Business channel on Businessweek.com.
"BusinessWeek.com's Small Business Channel will deliver the same quality journalism and insights that small business professionals depend on, as well as targeted opportunities for advertisers looking to reach them," said Bloomberg BusinessWeek chairman Norman Pearlstine in a statement. "Because of the role small business plays in the overall business and economic environment, coverage will also be incorporated in our global print edition."
Bloomberg closed on its purchase of BusinessWeek—now called Bloomberg BusinessWeek—two days ago. And in mid-November, in a move that raised some eyebrows, the company hired former Time.com managing editor Josh Tyrangiel to replace outgoing editor Stephen Adler who elected to resign after Bloomberg announced the acquisition.