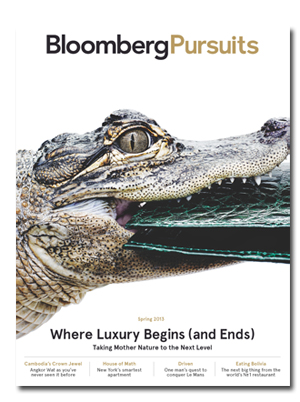 "We're competing in an attention economy—building an audience has never been more difficult," Paul Bascobert, president of Bloomberg Businessweek, said at the 2012 American Magazine Conference in San Francisco this past October.
Now, Bloomberg Markets spin-off and luxury magazine Bloomberg Pursuits is doubling its frequency to four times a year and has redesigned itself—all moves to better compete in the "attention economy."
"The magazine is pretty clean and sophisticated," says Ted Moncreiff, editor of the publication. "It provides a much chicer look and I also think busy people, which our readers are, want something that is clean, restful and easy to navigate. There are magazines that go in for every conceivable bell and whistle, and it works for them. For us, this is a luxury product and it's much more Apple than it is Microsoft."
The editor says that before the redesign, the publication was just as much for the reader as it was about the reader—incorporating editorial profiles of Bloomberg Terminal customers, for example. Now the editorial focus has shifted a bit with a heavier emphasis on culture.
"It's more about their world—art, food, fashion, travel, philanthropy and technology," says Moncreiff. "It's not just the things they're already engaged in. Our job, like that of any magazine editor, is to sift and bring back the good stuff for the reader and that's what we're doing on all sorts of fronts."
The magazine has a rate base of about 375,000, something the title doesn't plan on increasing just yet. The frequency change, says the editor, came as a result of audience demand.
"There was a big appetite for it from the readership and surveys done after the first two issues, though before my time, showed that people were hungry for more and we're eager to give it to them," he says. "There's a history of the Terminal dominating, if that's not too strong a word, their professional lives and this is an opportunity to engage with them outside of their professional lives."
Moncreiff says the company is currently considering upping the frequency of the magazine to six times a year in 2014, though no decision has been finalized. In addition to frequency changes, Moncrieff stopped short of saying the publication would also raise its rate base with a prospective change.
"My sense is no," he said when asked if rate base will increase. "Terminal subscribers opt into it and 90 percent of them do—they don't receive this passively. However, they're still Terminal subscribers and it's a very distinct audience. Could we go on the newsstand? We might. Could we broaden the audience through other means? With this issue we're going on the iPad and you can also subscribe online and I think about 40,000 people do that. But this is really intended for the Terminal subscriber, which is a very interesting and somewhat specific audience. The tension is between growing the rate base and keeping these astounding demographics. In my mind, the demographics are more important than a broad appeal—this isn't intended to be all things to all people, which is a good thing these days."
Moncreiff says the audience is a specific, information hungry group and the magazine's approach and editorial direction is birthed from this niche demographic. By being targeted in their approach, the editor says Bloomberg Pursuits can better compete in this "attention economy."
"Most luxury coverage is pretty superficial," Moncreiff says. "Readers are investing their time, money and emotions in us. In an age when there isn't an unlimited amount of anything—time or money—you want to be investing where you're going to get the greatest return, even if that return is pleasure."
 
Stay updated on the latest FOLIO: news, follow us on Facebook & Twitter!