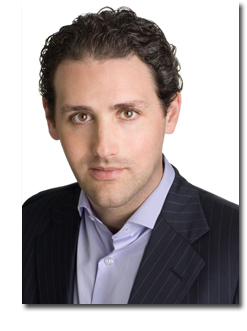 Time deputy managing editor Josh Tyrangiel has been appointed editor-in-chief of BusinessWeek, the magazine's first top editor under Bloomberg ownership. He replaces editor Stephen Adler, who said in October that he'd step down later this year.
As BusinessWeek's top editor, Tyrangiel [pictured] will report to Bloomberg's chief content officer Norman Pearlstine, who was tapped to serve as BusinessWeek's chairman. In addition to his print responsibilities at Time, Tyrangiel also served as managing editor of Time.com, and helped build the site from 400 million page views in 2006 to an estimated 1.8 billion in 2009, Bloomberg said.
According to Pearlstine, Tyrangiel is recognized at Time Inc. and parent company Time Warner as an "'editor's editor' and a natural leader.  His understanding of the ways in which print and online publications can work together will serve Bloomberg well as we expand our consumer media offerings."
"I am thrilled to be joining Bloomberg and to lead BusinessWeek's talented editorial team as we create the world's most influential and indispensable business magazine," Tyrangiel said in a statement.
Bloomberg agreed on October 13 to buy the 80-year-old print title and said it expected the deal to close before the end of the year. Some BusinessWeek staffers will make the transition under Bloomberg but a round of layoffs is expected to happen before the end of the week.