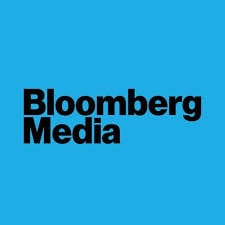 While many publishers are zeroed-in on Facebook Live as a platform for live streaming videos, Bloomberg Media appears to be exploring a different route. Today the company announced a partnership with Twitter, live streaming select Bloomberg TV programs via the social media platform. The deal is expected to go live sometime in the fall, a source tells Folio:.
The TV programs that will be featured include "Bloomberg West," the network's technology program, "What'd You Miss?," a daily recap of the most important stories in global financial markets, and "With All Due Respect," a program which provides analyses of the current election cycle. Additionally, Twitter will also stream Bloomberg's markets coverage.
"By partnering with Twitter, viewers from all over the world will now be able to leverage a powerful, real-time platform to consume and react to the news, accelerating our position as a leader in global business video, and offering new and innovative opportunities for our marketing partners," Bloomberg Media CEO Justin Smith said in a statement.
Currently, Bloomberg Television is available in over 360 million households, across more than 70 countries. The company already offers live streams of the programs on its own digital and mobile properties, and also partners with Apple TV, Amazon Fire TV, and Android TV. In May of this year, according to comScore, over 18.4 million unique viewers watched Bloomberg TV programs, with 411 million streams.
"Twitter is one of the fastest ways to find out what's happening in global business and financial markets, and to engage in the live commentary about it," Anthony Noto, Twitter's chief financial officer, said in a statement. "Partnering with Bloomberg will give people on Twitter the best way to see live financial markets performance combined with the live commentary on the underlying drives and implications."
A source familiar with the situation tells Folio: that there will be an advertising component in this deal. Via Twitter's Amplify platform, brands can purchase pre-roll ads to play before non-live clips, and there will also be an option for in-stream ads, similar to a 30-second TV spot. Bloomberg Media and Twitter will share the resulting revenue, although the exact breakdown was not disclosed.
This is the third video live streaming deal for Twitter in a week. It first broadcasted live coverage of the Wimbledon tennis finals. Then on Monday, the company announced it will stream live video coverage of the Republican and Democratic national conventions, in partnership with CBS.
The deal comes in the wake of an announcement made by Smith that revealed the company's TV revenue is up 15 percent and, thanks to video and custom ad sales, digital revenue is also up 15 percent.
The revenue growth and partnership with Twitter are both in line with Bloomberg Media's push to expand digital video, announced at NewFronts this year. The publisher also revealed that its VidPlus program will allow marketers to purchase ads that pop up briefly during an online video, similar to how ads will be incorporated in its live videos on Twitter.