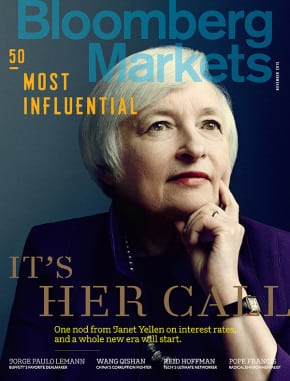 Bloomberg Markets, the monthly magazine distributed to all Bloomberg Terminal subscribers, will re-launch in 2016 with a reduced number of issues, says editor-in-chief John Micklethwait in an announcement to Bloomberg's American-based staff.
Print frequency will be cut by about half. The magazine will publish the remaining two issues of 2015 in its current format, after which point Ron Henkoff, executive editor since 1999, will depart along with about a dozen other staff members.
Editors Joel Weber, Stryker McGuire and Jon Asmundsson have been tasked with developing a prototype of the new Bloomberg Markets ahead of next year's re-launch. In reducing frequency, the magazine aims to make each issue richer in content, says Micklethwait.
"The re-launch of the magazine also means that several jobs at the magazine will no longer exist in the new year," writes Micklethwait. "For those employees who are affected, we are helping them find other positions within the company. Our hope is that most of the journalists at Markets will transfer to other jobs in Editorial by the end of the year."
The change is not expected to affect Bloomberg Businessweek or Bloomberg Pursuits.